I was so happy to show my work at the annual NSDCC Designer Craft Show at the Cunard Centre this past weekend. It is always a pleasure to speak with customers directly, and to introduce my jewellery to people who have not encountered it before.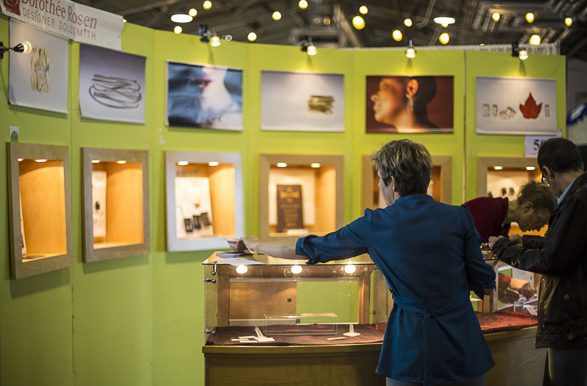 It was fun to explain my designs to such an interested audience. But what delights me most of all is when I am given the opportunity to observe the dance of desire and love: I had a couple at the booth early on this weekend, who just exuded love for each other. It was such a delight to witness!
People often fall in love with my work, and not everyone can afford it. In the past, I have had a couple of people give me four or five post-dated cheques to pay for a $200 ring over several weeks or even months, because that is all their budget allowed. I appreciate those sales a lot.  And I also appreciate what happened last Friday when that sweet couple was at my booth, really appreciating my 18k gold Onefooter ring. She loved it very much, and the one she tried on fit her perfectly. The glow in his eyes when he purchased the ring for her made my heart melt, for he was so happy to make her happy! Such tenderness passed between them,  I feel priviledged to have had the pleasure of witnessing this expression of their love for each other. I am truly blessed to be able to bring joy into people's lives. May the ring add to that couple's continuing delight in each other!