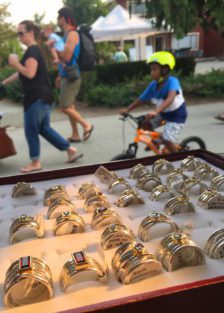 The first weekend of Harmony Arts Festival in West Vancouver just ended, and there are now a couple of days of rest for the artisans, while other activities continue at the festival. I look forward to returning on Friday for a last few days, before heading back to Nova Scotia.
I always enjoy the great interest my work provokes here on the West Coast. It is a joy to meet the many people a beautiful, well organized event such as Harmony Arts (and CircleCraft in November!) draw. And I love being amongst peers whose work I truly appreciate.
People here at Harmony often are surprised that I come this far for a show – all across the country. The reason I do is because it is an excellent one – the competition to be able to exhibit here is fierce, and thus only the best work are shown, handcrafted under the highest standards. As a result, all the artisans exhibiting are amongst the best in their field – I love showing my work alongside such excellence.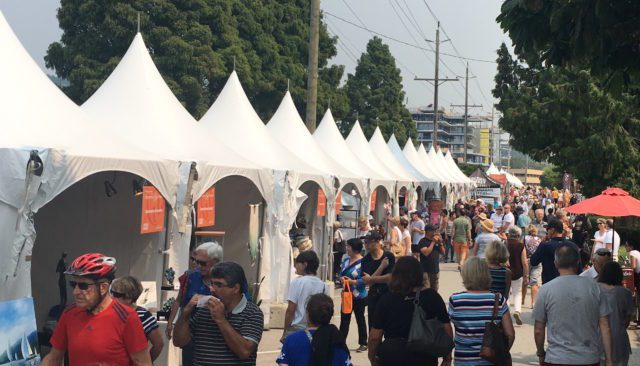 Speaking of high standards, though – there is one I wanted to bring up here.
As an artist rings tends to be my favourite 'canvas' for working in precious metals. When I bring these pieces before clients, I find it astonishing what prejudices folks have, particularly women, about their hands. Too long, too short, too fat (I advocate against this word in any case), too skinny. There is so little appreciation for one's hands! The labour they might have gone through to make them the way they are, or our ancestral inheritances that might shape them. My own hands have aged hugely, after over a decade of working metals and hand tools, and being in dirt and water through my love of culinary arts and its accompanying perils.
Travelling for work as I am by coming to the West Coast for HAF, I sometimes fall out of my routines. One of these is that, at home, I have a daily dose of anti-inflammatory turmeric paste. I have really noticed a difference: rings that normally fit me, no longer go over my knuckles, now that I am not taking the paste. So if you have trouble with knuckles, and even if you don't – consider trying this ancient remedy. I mix two thirds water with one third organic turmeric powder, and bring it to a boil with some black pepper (tells the liver not to discard the turmeric), and a good bit of coconut oil (as the delivery method to the cells). Boil while stirring, to make a paste.  Then store this paste in your fridge, taking a daily tablespoon of it (careful, as it acts as a blood thinner). You can add it to your oatmeal, or make 'golden milk' with a milk-type beverage of your choice and a touch go honey. Sometimes I add tea masala ('chai spice') to mine, or simply a dash of cardamom.
Thought I'd share this (my links are only examples; experiment!).
Mainly I want to send a message today for people to please appreciate their hands. Love them for all they are. Particularly if they are not currently causing you pain, and if they function well. Be grateful.
See you again Friday, Vancouver!