My favourite event of the year is coming up: the Designer Craft Show put on by the Nova Scotia Designer Craft Council. You are warmly invited to come down to the Cunard Centre this weekend and enjoy all the wonderful craft your eye could possibly behold!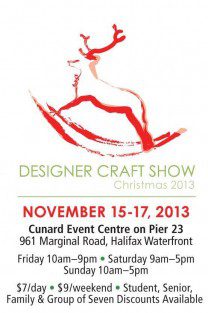 There are many places that offer craft shows around this time of year, but this one is by far the best. It is a juried show, which means that each person's work is examined in detail before it is allowed to be shown. The expected standards of excellence are strict; only thoroughly designed, locally hand-crafted work is allowed. That, in turn, makes for consistently really high quality of work. It is no accident that their motto is "Meet Your Makers"! The organizers from the Nova Scotia Designer Crafts Council put their heart and soul into this show, and you can feel that, both as an exhibitor, and as a visitor to the show.
I am always proud to present my work at the annual NSDCC Designer Craft Show at the Cunard Centre, and look forward to seeing many of my long-time clients there, and meeting new ones. See you there, I'll be in booth#501!
Friday November 15th, 10am-9pm
Saturday, November 16th, 9am-5pm
Sunday, November 17th, 10am-5pm