– June 17th, 2021 –
Are you sitting down?
I will not create any more OneFooter rings with gems in sterling silver.
Going forward I will only put gems on top of 18k gold or palladium white gold rings.
For one thing: if ever you had considered having a OneFooter or MapleWrap ring with gem(s) in sterling silver, then now is the time to act. 
As of June 30th, I no longer create any more sterling silver pieces with gems.
I have or will discontinue many of my other sterling silver pieces. 
Having said that, I will continue to create gem-less sterling silver works in the OneFooter series –  but not with gems.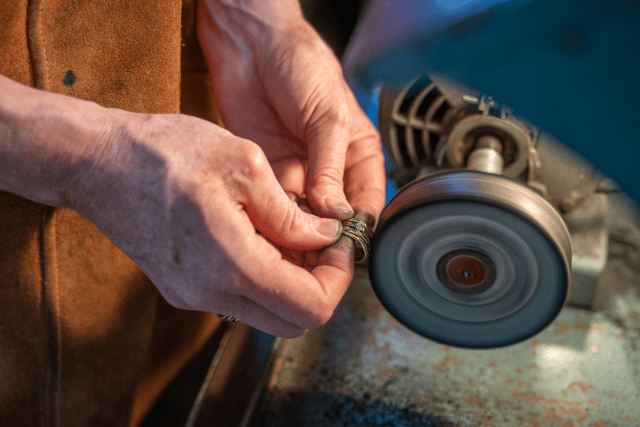 Why will I no longer make these rings in sterling silver?
In order to explain this, I will have to get a wee bit technical.
Sterling silver, often stamped '925',  is made from 925 parts pure silver, out of a thousand total parts, and 75 parts copper (i.e. sterling silver is 92.5% pure silver, and 7.5% copper). That copper quotient is added for strength – pure silver is very very soft. So you want that copper  in silver you wear on the body.
Ok, so: in order to add bezels to any ring, serious heat needs to be applied – the bezel will be soldered into place with the use of a torch. If there are several bezels to be added, this heating process will have to be repeated several times (and/or some bezels require multiple solders, depending on how complicated the construction of the ring is).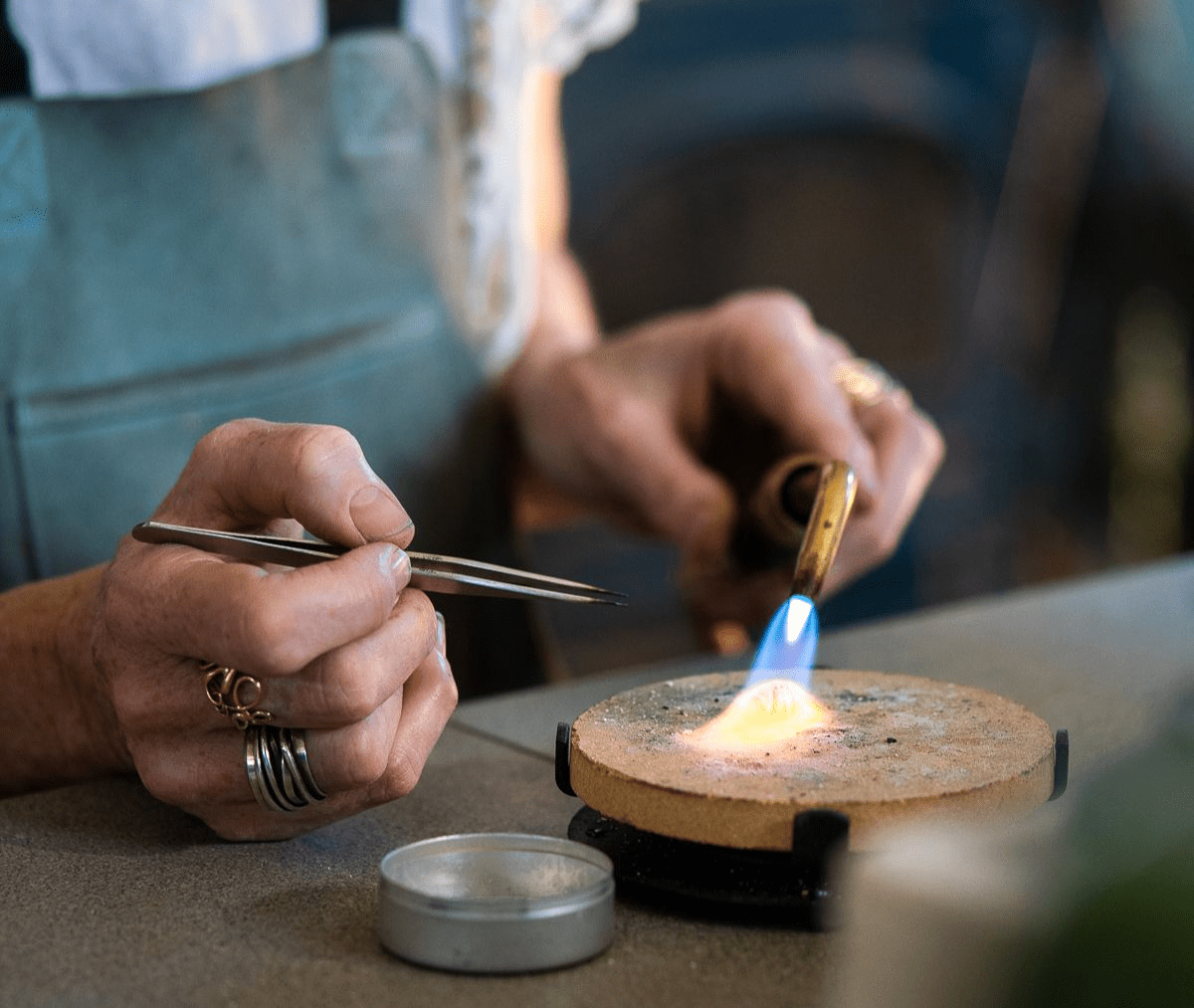 The main problem lies in the fact that, every time such heat is applied to sterling silver, if further brings the copper content to the surface of the metal, creating a dark shadow on the surface. The only way to remove this dark shadow (known as 'firescale') is by mechanical methods: sanding and polishing.
Sanding and polishing are very normal tasks in creating jewellery – a main part of any goldsmith's life. However, with the kind of design of the OneFooter ring, where each ring is created from a forged wire, the sterling silver has so very different planes, so many nooks and crannies and hidden place, especially in between settings and under crossovers etc., that it makes this task particularly difficult.  This clean-up ends up becoming the major part of creating such rings – one spends hours correcting the flaws created by the heat from the torch.
It is simply not how you want me to spend my time. The majority of time in creating a piece should be spent creating the piece, not in clean-up.
Gold, in contrast, does not have this same problem. 
Even though it gets heated to much higher temperatures than sterling silver in the soldering process, gold takes the heat well – there is no problem.
There is a last issue with the sterling silver rings: they tarnish. While tarnished silver is a certain look which can be attractive in itself (some silver jewellery has 'patina' added to it on purpose, which is the name for purposefully added oxidization/blackening, such as in my SpaceDot Studs, below), I find it less so with the rings with gems.
I had been contemplating this move for several years. Now that I have been alone in the studio, it simply is the right time. I have to use my time most wisely.
I do have something up my sleeve though, as mentioned, and am very excited about it.
So stay tuned!