Sometimes people are surprised that I call myself a goldsmith, since I also work with silver. I thought I'd demystify that discussion for you.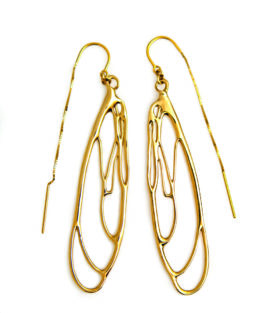 There are two main reasons for the decision to use this term. The first is actually rooted in the 18th century. I always thought that with the American war of independence was created not only a division of countries, but also of spelling. That the North, what was to become Canada, remained loyal not only to the British crown, but also the British spelling of English words. Turns out it's not that simple, and Canadian spelling does not exclusively follow the British. But in any case, there are marked differences, such as 'color' south of that border, and 'colour' north of it. Or 'jewelry' and 'jewellery'.

When I initially started my company, still finishing my degree in jewellery design and metalsmithing at Canada's premier institution for that degree, NSCAD University, I did not yet think very big. I named my sprout of a company 'jewellery designer, metalsmith'. A few years later, I realized that I was going to perhaps one day sell in the USA, and that this term would prove an obstacle. I did not want to box myself in by using the British/Canadian spelling.  Hence I had to find a different way to describe what I did by way of a new business name.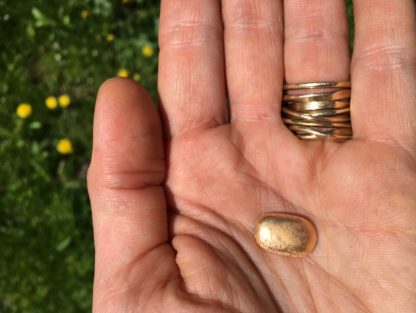 As you may know, I was born and raised in Germany, and only came to Canada as an adult. In my own cultural heritage, a jeweller is someone who sells jewelled body adornments, not who makes them. It is a retail position. Whereas the person making those items is known as a "Goldschmied" – someone smithing gold. But they, and I, also work in silver. But as it turns out, that term, silversmithing, is applied to the fabrication of vessels – be it of silver, copper, brass etc. You might start with a sheet of metal, and apply hand tools such as mallets and hammers over stakes, in order to displace the metal and shape it into vessels. I am also trained in this craft;  in artschool these courses were referred to as 'holloware'. Of all the terms, what I am is clearly a goldsmith.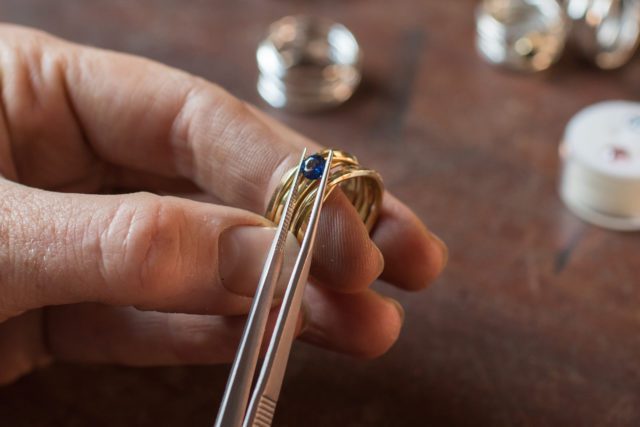 So this is how I arrived at the decision to use the word 'goldsmith', even though I also work in silver and copper, and I also set jewels. Particularly in a day and age where anyone can purchase beads and wire, and may call what they create 'jewellery', it is perhaps important to make the distinction. I added the word 'designer', because I have a university degree in jewellery design, a tough course of study, taught by this country's highest award-winning professors – I feel I have earned the title.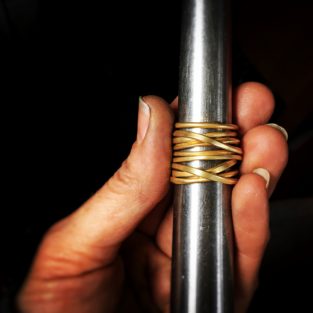 I also like that the term gets to the heart of my passion: I truly loooooooove working gold. There is nothing like it. The weight of the material in your hand – this in itself is beauty to me. When you start working gold: forging it, cutting or filing it, it behaves completely differently from other metals. It even sounds differently. I love its qualities so much. I appreciate its durability, its refusal to be destroyed by time, yet be so malleable. I find it to be a metaphorical inspiration for how to live my life: have heft/meaning, shine with a warm glow, do not let external circumstances destroy you, and yet remain malleable, carrying warmth.