Ah! Some exciting news: I am proud to be featured in an editorial on Canadian Jewelry Designers influenced by nature,  in nationally published Mercedes-Benz Magazine!
In a wonderful tribute, writer Isa Tousignat, supported by photographer Michael Crichton and stylist Serge Kerbel, pay tribute to some of Canada's finest jewellers. The magazine is a stunning 200-page publication of very impressive editorial – quality through and through, just like the cars (my dad had a then-old Benz back in the 60ies, the pride and joy of the family).
I am very honoured to have been interviewed for this feature. Here is an excerpt:
"In its refined simplicity, Van der Molen's work is similar to the jewellery of Dorothée Rosen, from Halifax, who is most famous for her Onefooter Ring, made of a foot-long wire of 18-karat gold wrought and coiled by hand into a chunky one-of-a-kind criss-crossing spiral, enhanced with an optional white Canadian diamond. Rosen's designs are inspired by the Nova Scotia shoreline and her study of the line, which she says is the foundation of all of nature's patterns, from the horizon to striations in leaves and the motifs that ocean waves leave on a sandy beach."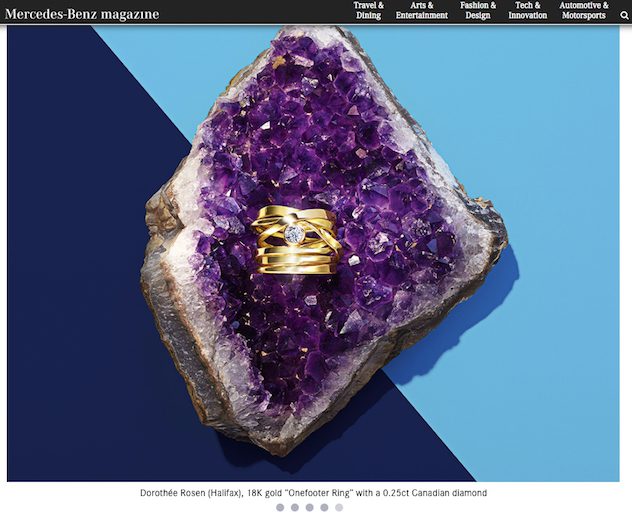 Isa Tousignat really understood well where I am coming from in my work, I am impressed. It was a joy to do this interview with her!  She did her research well, and went to visit, among others, one of my favs, Galerie Noel Guyomarc'H in Montreal. This is a great time to give a shout-out to all the amazing galleries that represent my work. Here is what writer Isa Tousignat had to say:
"Walking into Galerie Noel Guyomarc'h in Montreal (…) feels more like entering a contemporary jewellery museum than a jewellery store. Both showcase the natural themes common to Canadian jewellery design. The collections run the gamut, from Dorothée Rosen's leaf-imprinted rings to Rudi Peet's elliptical shapes and angles."
I love and appreciate those folks who stand their shops every day to promote and educate about the work us artists do in our studios every day (and many nights). Thank you all so much!
And let's see if I might meet some new ones in NYC next week, when I attend NY Now, a trade-only event where artists and potential gallery owners meet. You know I'll be sure to tell you all about it!

PS: Serge Kerbel – I highly recommend following the guy on Instagram to add some fun to your every day