What is the history of Valentine's Day? Probably some commercial endeavour. Or the lack of a mid-winter holiday? Or a combination of both?
Perhaps it doesn't matter. And while many folks may end up making empty, half-forced notions due to this holiday, others might use this time to really reflect on what they have, WHO they have in their lives. Let us celebrate being grateful for and to the ones we have in our lives whom we love, and by whom we are loved. Let us celebrate love!
Express your love by the giving of beautiful objects, or simply prepare a loving meal. Create a handmade surprise of your own, or use the creativity of language and a pen & paper, or your voice, to profess your love to him/her/them. Happy Valentine's Day!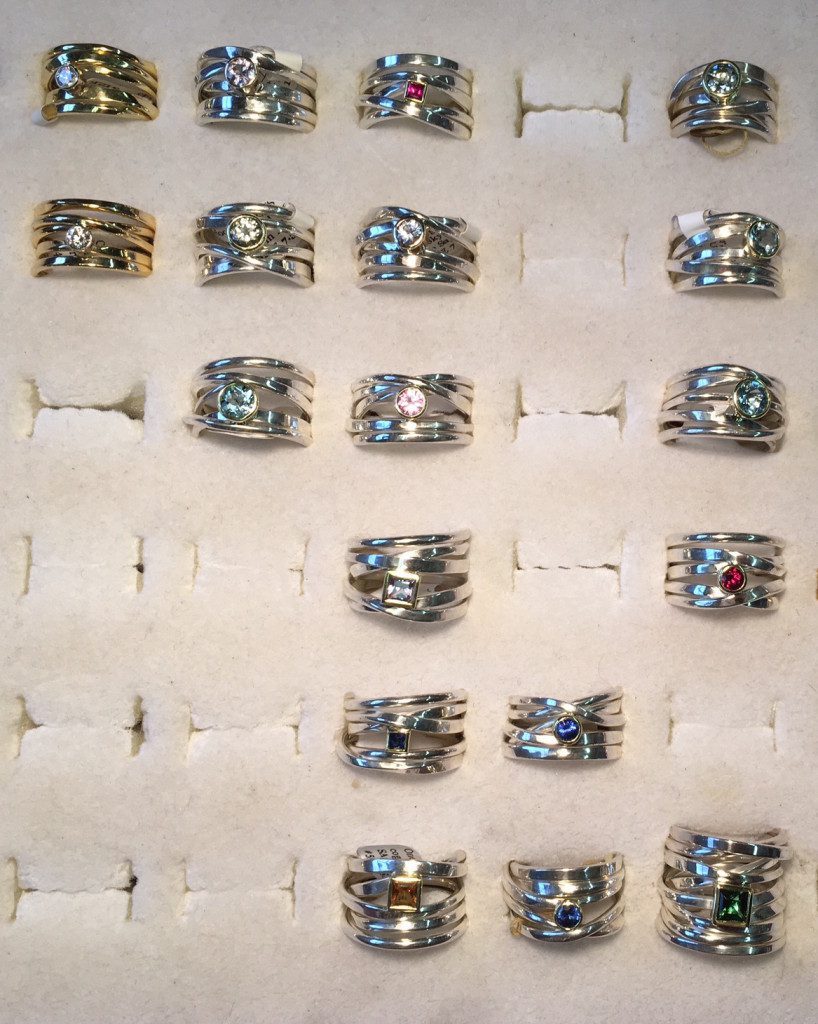 1st two rings on the left are Onefooter rings in 18kyg, set with Canadian diamonds, sizes 7 and 7.5 (many of my representing galleries carry these; check locally!)
The rest are almost all sterling silver Onefooter rings with sapphires (or other gemstones) in 18k settings.  Each has a number, so that I can keep track!
2nd column has One-Of-A-Kind
#64 with 0.57ct light purple sapphire, size 7 (top), and
#56 with 0.6ct pale blue sapphire, size 7.5 (bottom), and
#49, a Onefooter ring with Aquamarine, size 7.5
3rd column (top to bottom)
#62 with 0.17ct princess cut ruby, size 7
#65  with 0.39ct light blue sapphire, size 7
#48 with 0.47ct pink sapphire, size 8.5,
#57 with princess cut unheated purple sapphire, size 7.5
#53 with 0.17ct princess cut blue sapphire, size 8
#52 with 5mm princess cut cognac coloured sapphire, size 7
4rd column has two sterling Onefooter rings with dark blue sapphires, sizes 7 and 6.5
The 5th and last column has
three Onefooter rings with Aquamarines, sizes 6.5/7 and 8, $916 each, and one with a gorgeous red tourmaline (size 7.5).
The last ring in that row is a stunning Twofooter ring with a large green princess cut tourmaline, size 8.
I don't normally work in 14k, but I did once, so I have these couple of rings here (will not make that combo again):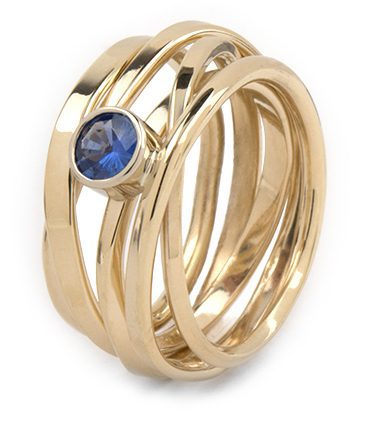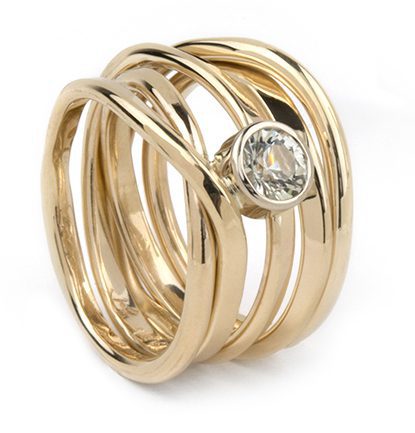 And, miraculously, I still have this beauty: