I am excited to finally come out of the studio the next two weekends!
Please come and see me at The Avondale Art Fair this Saturday, June 21st. Check out their Facebook Page for images from last year.
This will be a free event with art, music, food, local wine and craft beer, and all that in the heart of Nova Scotia: what could be better?
Scores of artists will again fill the Avondale Sky Winery's beautiful vineyard grounds on Saturday, June 21st. The 2014 fair will include local chefs who will offer demonstrations throughout the day, other wineries in attendance, and new this year will be the addition of craft brewers.
Always held the third Saturday in June,  you will find exceptional juried art that includes paintings, jewellery, pottery, glass, sculpture, fiber, leather, photography and more. Food vendors will entice you with their unique fair offerings and a talented array of local musicians will perform onstage throughout the day. The fun begins at 10 am and runs until 5 pm.
The Avondale Sky Winery is known for its sailing of the former Walton Church on the Minas Basin to its present location as their retail site. If you haven't yet visited this renovated historic site, it is a must-see destination! Picnic between the vines, enjoy wine tasting and fabulous food, and feel free to spend the day at this fine location. This is a "must attend event" for the entire family.
Come to support the artists – Come to enjoy the great music – Come for the wonderful food – Come for the fun of it!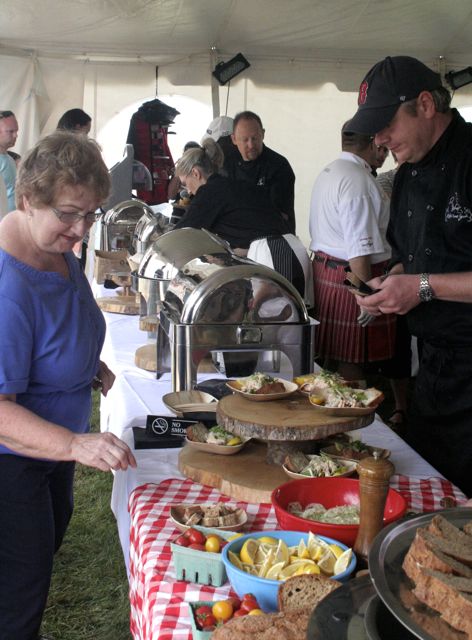 And then: more fun surrounding food, right here in Halifax!
The following weekend, on Sunday, June 29th, I will once again be in the midst of great activity during the Right Some Good Festival  (you'll have to go to the June 29th event on their website). I attended last year in Sidney, NS, but now they are bringing their fun and food filled event to Halifax, closing down Spring Garden Road for the day, and setting up a stage for music performances, and a stage for the "Master Chef"-like cooking show-off!
They say in their pressskit:
Now in its fourth year, the foodie adventure continues to redefine the North American culinary tourism landscape with its innovative pop­up dining series. Led by the world's top­ranked chefs, the menus are inspired by the best local ingredients. World­class chefs are paired with local and aspiring apprentice chefs, together they create food artistry at its finest. The festival "pops­up" in Nova Scotia's most famous and sometimes unexpected sites. Whether it be opening and closing a restaurant in one night, setting up a Gourmet Street Fair or cooking classes, these rock­star chefs create culinary magic never seen before.
And they have invited artists and other vendors to join their street fair. I love being surrounded by food and chefs, so it was a no-brainer for me.
Follow them on Facebook https://www.facebook.com/RightSomeGood, or see some videos here.  See you there!