One of the things that delight me most about being able to make wearable art by hand is that I sometimes get to collaborate with clients on pieces that are particularly meaningful to them.
I recently had the opportunity to create two such pieces, both in the Onefooter Series, and their new owners gave me permission to tell you about them.
S. first met me at CircleCraft market in Vancouver in the Fall, where we started our conversation.  She knew she wanted a palladium white gold ring, and that she wanted to create a ring that would celebrate her family. Naturally, we went to birthstones (although that is by no means the only option). As you may know, there is some leeway with those … December, for example, which was one of the months we were working with, could be signified by using either Tanzanite, or Zircon, or Turquoise.  I am particularly fond of Blue Zircon, a much overlooked natural stone – beautiful brilliance and the colour of the water on a Caribbean beach. The other months were April, June, and September. In order to stay with the blue theme, we opted for diamond, exciting colour-change alexandrite, and sapphire. All were set in 18k yellow gold atop the 18k palladium white gold ring.
I am very happy with the result that celebrates the birthdays in the family, the client, her husband, and their two children – it turned out to give a beautiful option of combining stones.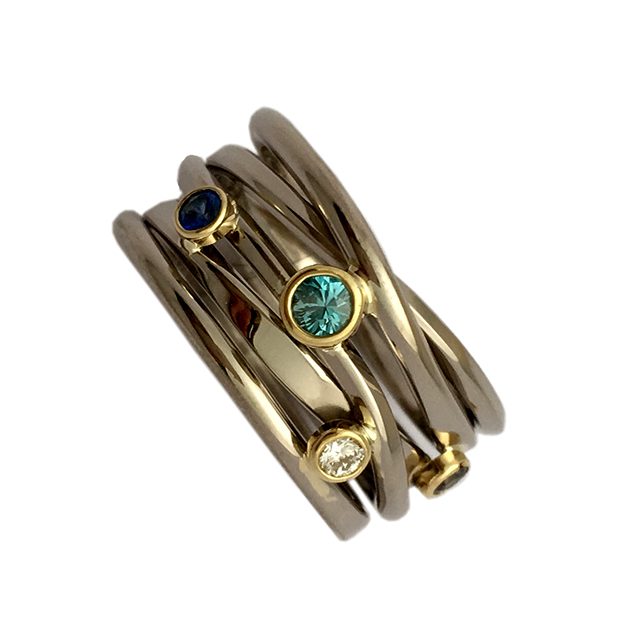 The second ring I was so fortunate to create of late was a celebration of rebirth on many levels. Married for 24 years, the client wanted to reimagine her original engagement ring. In her original message to me, she wrote
"this design just really seems to represent the journey of life. Crazy. Unique. Unpredictable. " 
There was a health aspect to this, as well, but I do not want to say too much here. Suffice it to say it is an important piece for this feisty wonderful lady. She had the fabulous idea to set the three diamonds from her own ring in red gold settings atop the new 18k palladium white gold ring – what a great choice! I love how it turned out:
It really means a lot to me that I get to make pieces that are so meaningful to the wearer, that have such a deep connection of their hearts.
Thank you, you two!! May the pieces bring you much joy.