Guarantee & Exchange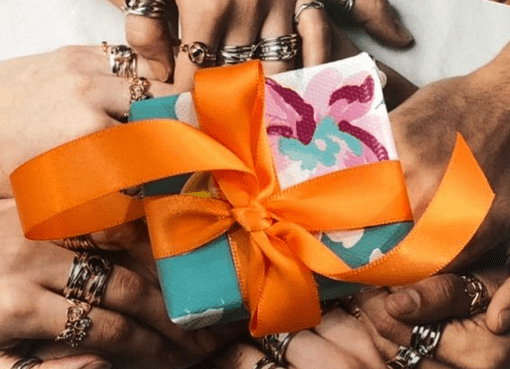 Bringing joy to people is my main inspiration; I want you to be completely satisfied with your jewellery and I understand how it can be hard to find the right fit online. If your jewellery does not fit, does not look right, etc., simply ship it back to me via this easy Return step. If your piece is a stock item, ordered off my website, I will send you the size you need, or exchange it for a different piece, no problem. If it is a customized OneFooter or Script ring, I will alter it as required. If you suddenly don't want it, I will take it back – I don't want you with a piece you don't like.  That's right!
One way to avoid such issues is to take advantage of my PickBox "Try Before You Buy" service: it will allow you to try on up to three items in the comfort of your own home, before purchasing. I will ship them to you for free!
Also be sure to have your ring size correct by getting sized by a professional jeweller in your area, or having me send you a complimentary plastic ring sizer. 
If it is a unique and different custom piece created solely for you, and is not part of my usual collections, or if I have used your gems, I am happy to make one alteration if it is possible; however, such custom pieces are non-returnable.
That's why it is important that we have a conversation and exactly determine your requirements, including your size, before we embark on the Custom Creation Journey together. 
Shipping

I ship to Canada, USA, and most countries internationally.
Free local pickup is available in Halifax, NS, Canada. See my covid-19 precautions.
Please allow 1-5 business days for order processing. If the item isn't in stock and needs to be newly created, it make take up to 2 weeks – I would let you know.
Once your piece is ready to ship, you will receive an email notifying you that your order is on its way.
Unless you are choosing free un-trackable shipping, please allow 1-8 business days for Canadian shipping, 4-10 days for USA shipping, and 1-3 weeks for international shipping, depending on service you choose and shipping speed in your country. Estimated delivery times can be calculated at check-out. Additional duties, customs, and sales taxes may be added separately in accordance with your state or country's specific requirements.
Either CanadaPost or UPS will be used for all shipments. In keeping with my values of sustainability, I use UPS's carbon-neutral shipping when UPS shipping is selected. Read more on my Materials & Sustainability page.
Cancellations
You can cancel your Online order within 48 hours of purchase by going to My Account-Recent Orders and clicking "Cancel."
Returns & Exchange
If you have something to ship back to me, go to Returns for instructions and shipping label to process your return.