Free shipping in Canada and USA
Discover Ethical,
Handmade Jewellery
Made Locally By Dorothée Rosen Goldsmith in Halifax, Nova Scotia, Canada
Support Sustainable & Ethical
Environmental sustainability and ethical sourcing are priorities. Dorothée uses Fairmined or 100% certified recycled precious metals, and ethically sourced diamonds – including SCS certified sustainability rated diamonds.
Dorothée's award-winning work has been published in numerous exhibitions, magazines & books. In 2022, she was selected as 1 of 21 creatives to represent Canadian culture on the German trade mission.
Collaborate one-on-one with your maker and know that you are buying from an individual craftswoman who takes care in each created piece. Want to talk about your project?

Whether repurposing your jewellery or creating the perfect new piece, you can have a custom-jewellery consultation with a skilled goldsmith
Engagements Rings, Wedding Rings, and Jewellery for All Occasions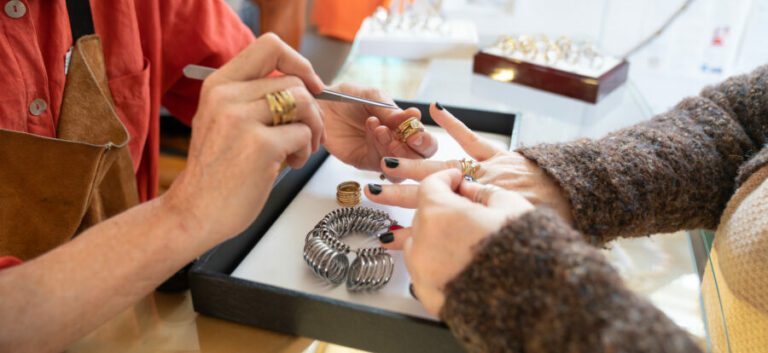 Introducing FLOW series
Made from 100% Fairmined™ ECO Gold
#GoldToBeProudOf #EveryGramCounts
I am now one of 11 Canadian jewellers using Fairmined gold
Let me send you a complimentary ring sizer
"It evokes movement, fluidity, flexibility, and echoes the twists and turns of life… maybe that's it."

Dear Dorothée, I discovered your Twofooter Rings at the Vancouver Art Gallery this weekend and it was as if I had encountered the ring I'd always dreamed for myself and would make if I were a goldsmith. Thank you for your beautiful creations! [Later when the ring arrived] Thank you for sending the beautiful two footer over to the Vancouver Art Gallery with my name on it. It reached me, it fits perfectly, and I love it.
I wanted to send you an email to say how pleased I am with my exquisite one footer ring that arrived today. I've wanted one for years and have always been waiting for the right time to buy one. Turns out that day was this past Saturday! I was actually dancing when I opened the package, and to find that you had taken the time and care to wrap it and tuck in a note made it even more special.
Hello Dorothée! Years after our meeting, I have finally purchased one of your rings yesterday. I was in a local shop, the Two Macs in Margaree, and gasped. "Dorothée's rings!" One fit me perfectly (a one and a half footer in silver) and could not leave it behind. Your work still stirs something profound in me – I can't say exactly why that is… it evokes movement, fluidity, flexibility, and echoes the twists and turns of life… maybe that's it. Thank you for the beauty you bring through your work.
Dorothee, I was nervous using my mother's ring for sentimental reasons, but I am so glad I did! I love the ring and I can now wear it instead of it sitting in a jewellery box. Thank you and Merry Christmas.
Dorothee, just got my ring and I LOVE it. I'll be sure to praise your work whenever someone admires it. I hope to be a repeat customer!
Hi Dorothée, I received my ring today and am thrilled with the result! Thank you very much. I am glad I found you.
Love it! Hi Dorothee – Thank you so much for making me a new ring. It fits and I love it! The ring arrived promptly, just before we left town for a few days with friends. The ladies both noticed my new ring – and commented on how beautiful it was and how perfectly it suited me. Can't thank you enough.
Hello Dorothée,Thank you very much for my ring! It's gorgeous, perfect and I love it!
Good morning Dorothee, just a quick note to let you know I received my pearl necklace yesterday. Unbelievably exquisite! Thank you so much.
Good morning Dorothee! I am SO happy! This ring is the most beautiful ring I ever saw! I am so grateful that you could made it smaller. Thank you again! Have a wonderful day!
Each piece is individually handcrafted. When I begin to translate my inspiration into metal, I work very intuitively, allowing space for serendipity.
online | Canada | USA | International
Try things on, get access to one-of-a-kind pieces not available elsewhere, or just talk to me about what inspires you.
There are currently no upcoming events.