Materials & Sustainability
Environmental sustainability and ethical sourcing are priorities. I have used 100% recycled gold since I began forging it. In addition, I am proud to be one of only 11 Canadian jewellers using gold and silver that is Fairmined. I have personal connections to my pearl and coloured gemstone suppliers. All my diamonds are certified Canadian-mined, or lab-grown. Please do not hesitate to contact me with any questions or concerns.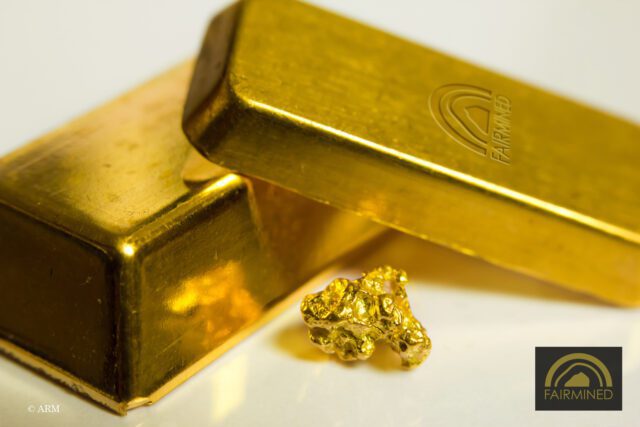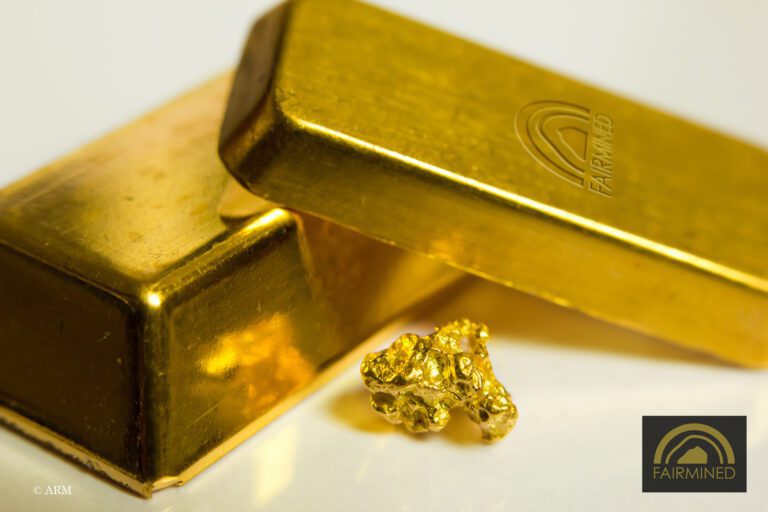 Metals
It has been my mission and ongoing journey to find the most ethical and sustainable precious metals for all of my jewellery. I use 100% recycled as well as fully-traceable Fairmined gold and silver.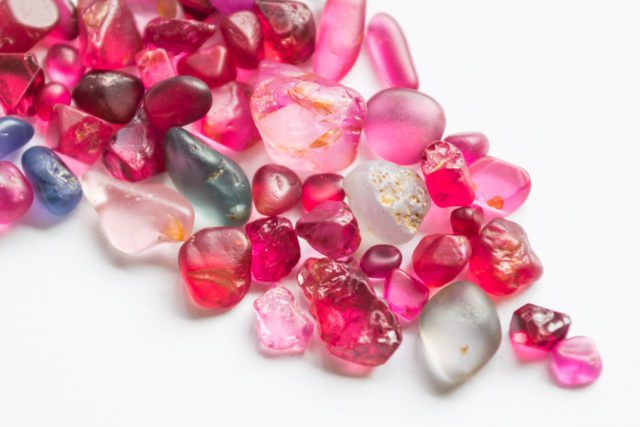 Gemstones
I source Canadian diamonds from the Northwest Territories, where mines undergo strict environmental assessments and work with local First Nations groups. Sapphires & other gems come from trusted suppliers who ensure their origins and follow strict ethical standards.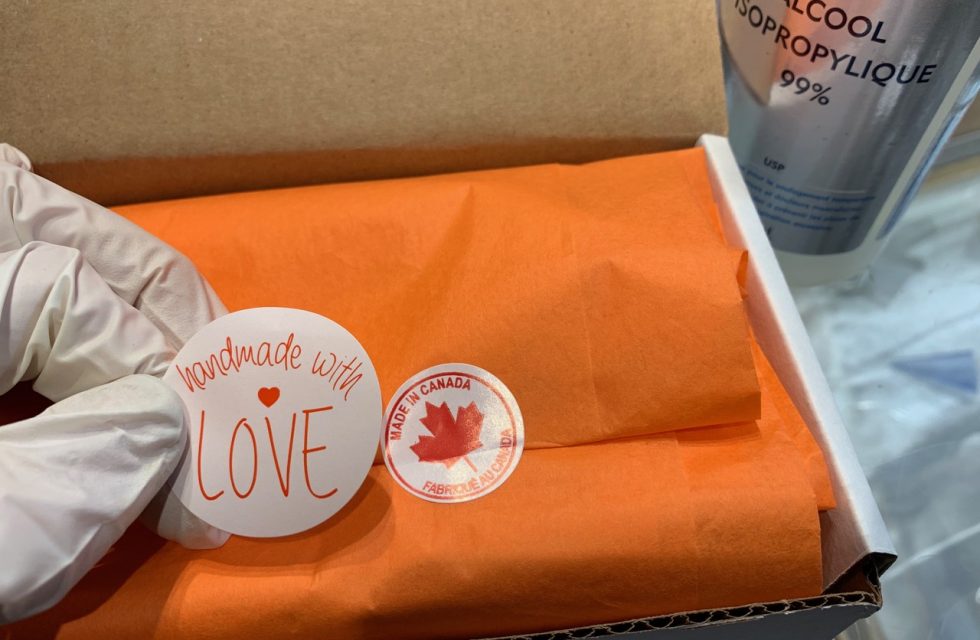 Shipping
Reusing packaging material, as well as choosing UPS's carbon neutral shipping option, are all ways I try to cut down on my footprint.
Conflict-Free | Transparent | Traceable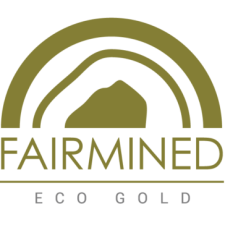 As of 2021, I am using either 100% recycled or Fairmined gold. Having used 100% recycled gold for the last 20 years, I am now increasing accountability and will be using Fairmined (ie fairly-mined from Peru), whose certifications have the strictest standards when it comes to sourcing. The ECO Fairmined certification goes even further in ensuring there is no use of cyanide or mercury used in the extraction of gold (a common practice in goldmining, otherwise). My Flow Series is made from this Fairmined Gold To Be Proud Of.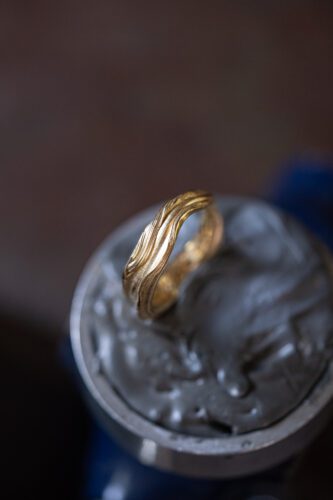 Watch the one-minute video: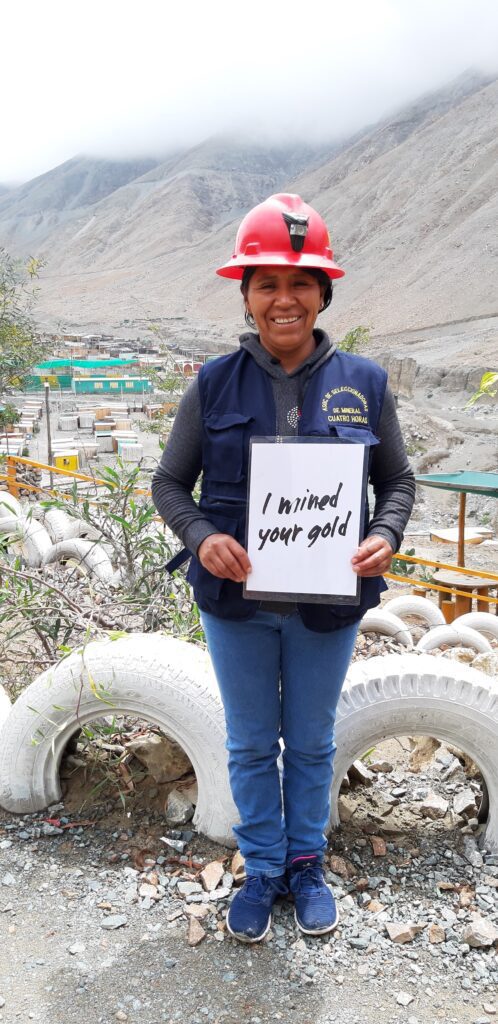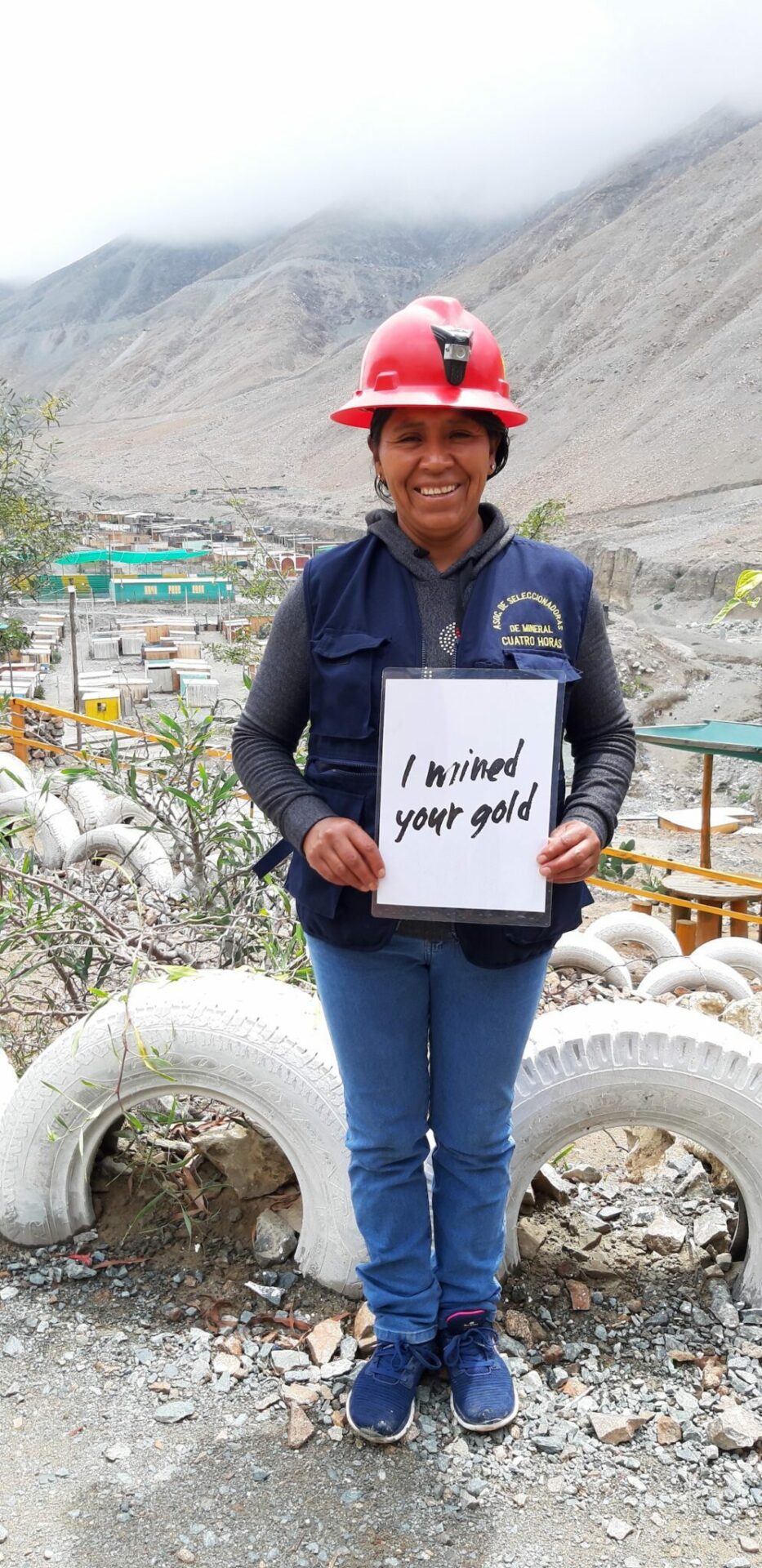 Fairmined™ is an assurance label that certifies gold from small-scale mining organizations embracing responsible practices. Positive change in small-scale artisanal mining, the promotion of sustainable social-economic development and environmental protection are the objectives of this wonderful initiative. The Fairmined certification system is audited by independent, accredited certification organizations, ensuring that the mining organizations comply with the requirements of the Fairmined Standard. The journey of the gold is then tightly traced and the entire supply chain audited, all the way from the mine to the goldsmith to bring you Gold To Be Proud Of.
What does FAIRMINED mean?
What about FAIRMINED ECO Gold?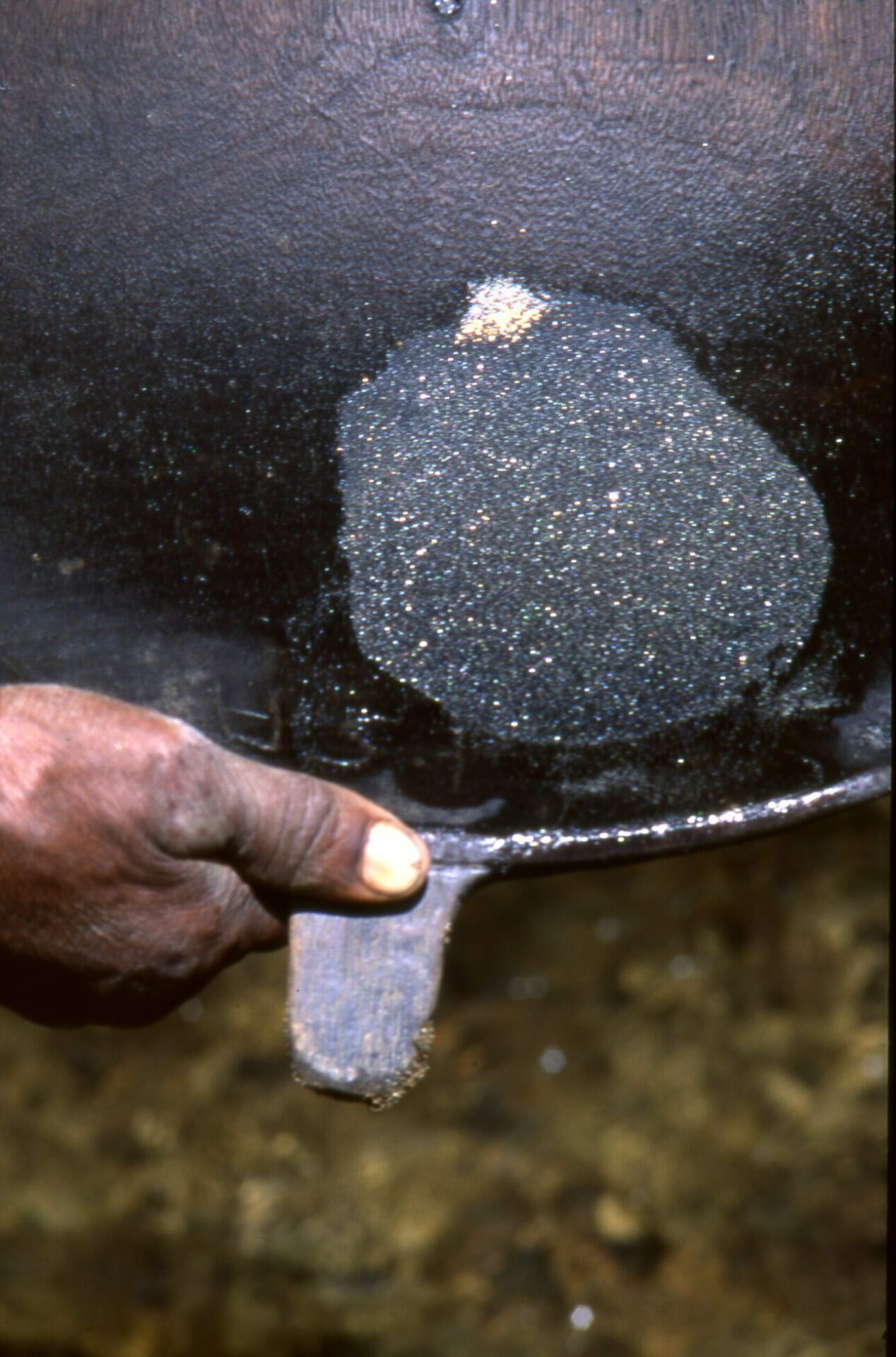 It is important to me that the art I create is not only beneficial to myself and those who wear my jewellery, but also to the small scale, artisanal miners and their communities.
The Fairmined Eco Gold that I use is responsibly sourced from a mine in the Ananea district, Peru, which achieved its Fairmined status in March of 2020.
Is Fairmined the same thing as Fairtrade?
They are similar, but different. While Fairmined and Fairtrade both aim to better working conditions and wages for workers, they are in fact two different certification systems. (You may have heard of Fairtrade chocolate and coffee –there are now many Fairtrade commodities available, including gold.) When considering both certifications, ultimately I felt Fairmined was the most progressive, as it was specifically created to address metal mining and its standards for wages, working conditions, health, community, and environment. Fairmined ECO is also the only certification to ensure that the gold is mined without the use of toxic chemicals such as mercury and cyanide. 
Where does gold comes from, why you should care, and how you can make a difference?
Recycled Gold & Sterling Silver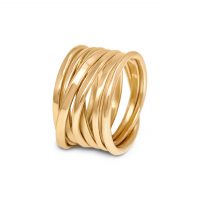 I source my sterling silver and gold for most of my jewellery, such as the OneFooter series, from Umicore and Stuller Inc. Cast materials for rings like those in the MapleLeaf series are from recycled materials from Montreal-based SR2 Technologies. Sometimes, I have used palladium sterling silver for the OneFooter rings with gems. This highly valuable material is far superior to regular sterling silver; it is stronger and much more tarnish resistant. 
The white gold I use is unusual. It is called 'palladium white gold'. It is a much more superior alloy, as palladium is a highly pure metal; alloyed with pure gold, it creates a gorgeous dark precious metal, which looks a bit more like platinum than commercial white gold.  It is a highly valuable metal, which does not have to be rhodium plated again and again like commercial white gold. I only work in 18k.
Even though it is incredibly durable and strong, 18k Palladium white gold is very malleable – it loves being forged, and thus lends itself to the forging technique I use. I appreciate its density and colour very much – it is very contemporary. Best of all, it is hypo-allergenic, as it does not contain nickel.
Read more on my Expert Advice on Palladium White Gold.
I work with diamonds from the Great White North.
Canada's diamond mines yield a higher ratio of pristine, gem-quality diamonds in comparison to the output of other countries. They are noted for exceptional colour, clarity, and lustre, as well as low levels of fluorescence. Some come with certification papers and a laser inscription in the girdle of the diamond. Others, are simply sourced through extremely reputable suppliers, and are: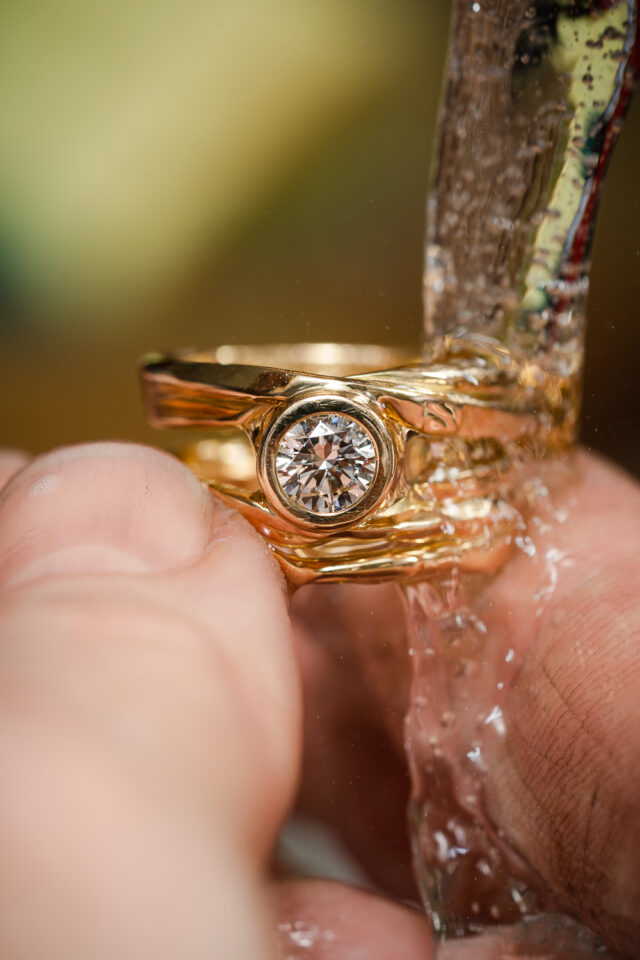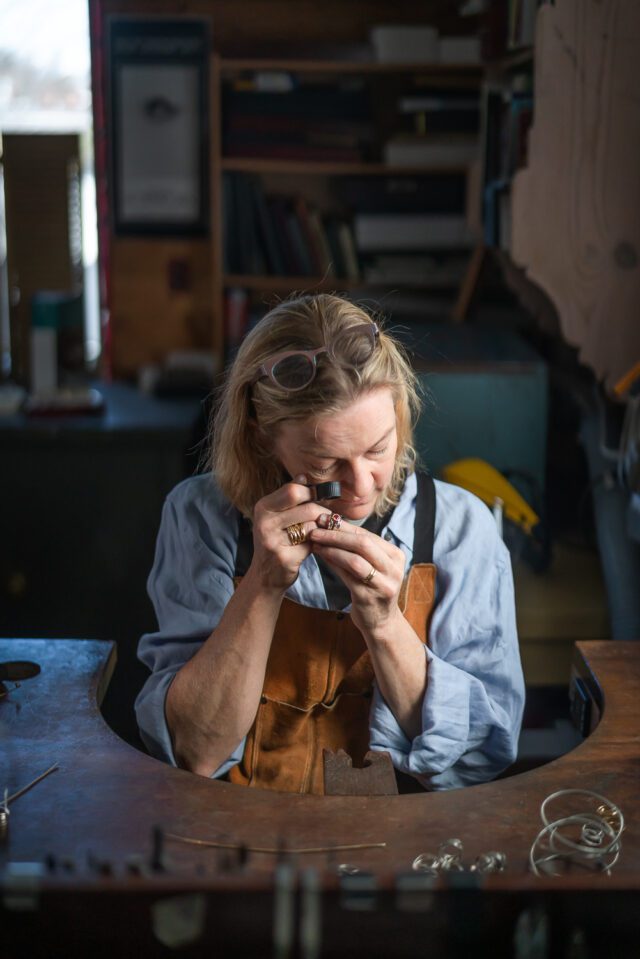 Most of the diamonds I use originate from the Ekati and Diavik mines in the Northwest Territories, a remote and barren region near the Arctic Circle. Since the discovery of diamonds in this area in the 1990s, these mines have undergone intensive environmental assessments linked to rigorous permitting processes. Working with local Aboriginal groups, special care is given to ensure the long-term integrity of the land, water, and wildlife. The mines are signatories to environmental agreements involving local Aboriginal groups, the federal governments, and the territorial governments. In addition, the mines have an established history of developing technologies and processes to help conserve the environment.
Sapphire and other Gemstones
Sapphire, along with ruby, emerald, and diamond has always been one of the most important precious gemstones. Sapphire is a variety of the corundum gem species whose members also include ruby and fancy coloured sapphires.
From their website: "For centuries, sapphire has been prominently featured in jewellery. It's hardness, stability, and toughness makes it suitable for all types of jewellery. Sapphire's endless shades of blue have made it one of the most popular gems around the world."
Colour
Many people don't know that sapphire comes in all the colours of the rainbow.
All shades of blue corundum are referred to as simply sapphire and red corundum is called ruby. All other colours are considered fancy coloured sapphires and are named for their particular hues for example: pink sapphire, yellow sapphire, green sapphire etc. The most sought after fancy coloured sapphire is the orangey pink variety known as Padparadscha, which means 'lotus flower' in Sinhalese.
All members of the corundum species share a common chemical composition and crystal structure while trace amounts of different chemical elements are responsible for the various colours of the different varieties. Sapphire, when blue, is coloured by small amounts of iron (Fe) or a combination of iron and titanium (Ti). These elements absorb portions of the visible light spectrum producing the blue colour we perceive.
Sourcing
Sapphires are mined all over the world. Often, they are not cut in the country where they are mined. Very seldom is their provenance known, although a professional laboratory can identify the origins of a sapphire, based on its geochemistry and inclusions.
My gem merchant, who is the International Coloured Gemstone Association's Ambassador for Canada, has traveled to Australia and Sri Lanka herself, in order to ensure ethical standards of sapphire mining and cutting. I appreciate this level of accountability, and the fact that there is such a direct connection to the origin of these stones.
The most important sapphire deposits are found in Sri Lanka, Myanmar, and Thailand. Other producing countries include Australia, Cambodia, and the Unites States.
Sapphires are routinely treated to improve their appearance. Different heating temperatures and conditions can produce a vast array of results: dark stones can be lightened, light stones can be darkened, inclusions can be dissolved to improve the clarity, and inclusions can be introduced creating star effects. These treatments are stable and many can also be used to improve the appearance of fancy coloured sapphires.
Each diamond is tracked from rough crystal to the final product, creating an unbroken chain. Each polished diamond is laser inscribed with the ArcticMark logo, an image of a maple leaf and a unique serial Id number to guarantee its authenticity. When a diamond bears the ArcticMark logo, you can be certain that it's an authentic Canadian diamond. Every diamond is natural, pure and ethically mined.
Umicore has the highest standards for environmental, business, and social sustainability and responsibility. They are an active member of the jewellers Vigilance Canada. In addition, their manufacturing site is also a certified member of the Responsible Jewellery Council. Much of their materials are recycled, and they have a ban on materials from the Republic of Congo and adjoining countries.
Gold and other precious metals should be mined and refined in a sustainable and responsible manner that respects both the needs of humanity and our environment.
Our position on responsible mining procedures goes much further than the gold mining process itself. It encompasses all aspects of gold: appropriate mining methods on conservation, remediation and fair labor practices. It also includes proper refining; correct handling of aqua regia acid, scrubbing fumes and clean emissions.
In keeping with my values of sustainability, I often re-use packaging material, as long as it is sanitary. For two years after my kitchen reno, I used the recycled cardboard spacers my kitchen came packed with, in my shipping cartons to stabilize jewellery boxes and keep them from moving around.
I use UPS's carbon neutral shipping option when UPS shipping is selected: For more info, see UPS Sustainability and their program with Natural Capital Partners