Reusing Old Jewellery & Custom Jewellery
The most reliable way to know your ring size is to visit a local jeweller. If you are looking to have me make a custom ring for you, I will be happy to mail you a sizing tool, so that we can be sure to have the correct size for you! For simpler ring projects and quicker sizing, you can use a printable size guide (with all printing for the purpose of sizing, make sure you have your print settings at 100%, and test against a ruler before proceeding – this is very important!:
Download a Printable Size Guide
You can also use the following instructions: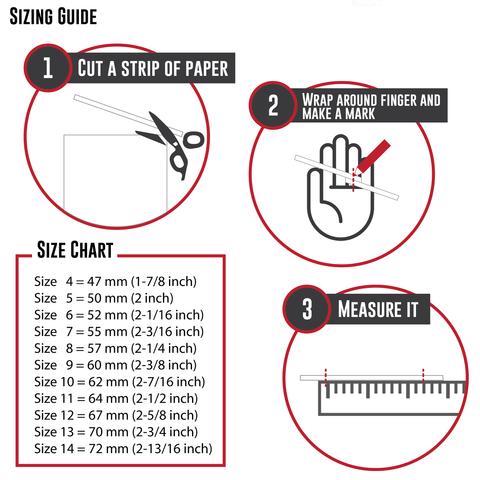 How to Measure for Bangle Size

1. Prepare
Hold your hand as if you were putting on a bangle. Bring all of your fingers together with your thumb and little finger touching.
2. Measure
Measure around the hand at the widest point with a tape measure, string, or a strip of paper. Be sure to pull the paper, string, or tape measure snug against your skin. If using a string/paper, mark it with a pen and then measure it with a ruler. This measurement is the circumference of your hand.
3. Determine Diameter
Use the following chart to determine the diameter of your hand, based on the circumference. After determining the diameter, choose a bangle that's at least 6mm (1/4″) larger in diameter than the diameter measurement of your hand
Size not listed in the chart?
If your size doesn't fit into these categories, please choose "Other" for your size selection, and indicate your circumference measurement in the space provided.
| Hand Circumference (mm) | Diameter (mm) | Size |
| --- | --- | --- |
| 190 mm | 60 mm | SMALL |
| 210 mm | 67 mm | MEDIUM |
| 219 mm | 70 mm | LARGE |
| Hand Circumference (in) | Diameter (in) | Size |
| --- | --- | --- |
| 7 1/2″ | 2 3/8″ | SMALL |
| 8 1/4″ | 2 5/8″ | MEDIUM |
| 8 5/8″ | 2 3/4″ | LARGE |
Bringing joy to people is my main inspiration; I want you to be completely satisfied with your ring. If your jewellery does not fit, does not look right, etc., simply ship it back to me and I will make that ring again until you are happy. For jewellery over $500, exchange shipping is free. 
Exchange & Cancellation Policy
Shipping, Exchange, & Tracking
I only make OneFooter rings in 18k yellow or 18k palladium white gold, or sterling silver. No lower carat, no rose gold.
Palladium white gold lends itself to the forging technique. I appreciate its colour very much – it is very contemporary, and it is hypo-alleregenic, as it does not contain nickel.
I can rhodium plate, but I do not recommend it; I recommend against it as it has too many surfaces to rub off the plating. My settings are always either 18k yellow or 18K white gold. In-depth sourcing information can be found here: 
Materials
Please contact me and I will respond to your question as soon as possible.