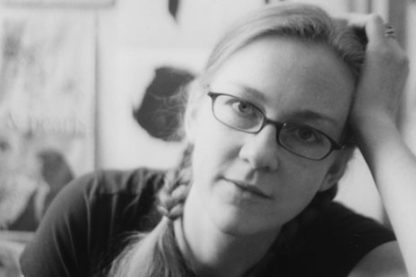 I was born in Germany and immigrated to Canada in 1989 at the age of 19. In 2005, I graduated from NSCAD University with a major in jewellery design and metalsmithing, and a minor in art history (focus craft). I was honoured to be the recipient of various awards and scholarships, and continue to participate in exhibitions in Canada and the US. I create in my studio in Halifax. My work is available online, at my studio, or through several galleries in North America.
You can find out a lot more about me and how I work in the following pages:
My Design and Inspirations talks about the process of how I work, and why I do what I do. You can check out which professional Affiliations I draw support from, and lastly, there is a page of Press articles I have been featured in.
I have a passion for moving metal, and I like working with line. My creative stimuli are often found in my surroundings. When I begin to translate my inspiration into metal, I work very intuitively, allowing space for serendipity. With the original inspiration in mind, I begin a dialogue with the metal. How does a piece change when I vary the amount of pressure put upon the metal? I work through sample after sample, letting the metal guide me as in call- and-response, developing a conversation between metal and maker. Through a process of careful decision making, both in material and technique, I work the metal, a hard and cold material, into a relationship with the human body, creating adornments that capture the exchange between inspiration and material.
If you'd like to have a further look into the studio, check out an episode which was filmed about me by Maritime Made. This Eastlink TV series is kind of like our very own 'How It's Made'. The show generallyhighlights a broad variety of products which are made here in the Maritimes, and shows how they are made. Here, they have filmed me making my OneFooter rings. I have seen several crafters on this show, including Alissa Kloet of Keephouse. I was delighted to be featured.