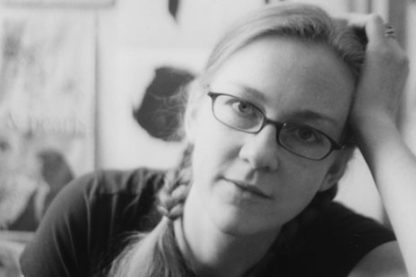 I use Canadian diamonds, ethically sourced or recycled gold to handcraft custom engagement, wedding, and anniversary rings. Goldsmithing is my passion. I can source gems for you, or work with yours.
My goal always is to bring joy to the wearer with the pieces I create. I welcome you to visit my Halifax studio, in person or virtually via video call, to discuss your custom project. My collectors are international, and working remotely is absolutely workable.
I have been making jewellery for over 16 years.
Initially, I graduated from NSCAD University with a major in jewellery design and metalsmithing, and a minor in art history (focus craft). I was honoured to be the recipient of various awards and scholarships, and continue to participate in exhibitions internationally.
I create in my studio in Halifax. My work is available in my online shop, at my studio, through several galleries in North America, or through custom work.
You can find out a lot more about me:
Want to get to know me better?
Honestly, one of my favorite things to do is write my weekly Artisan's Circle newsletter. I so enjoy sharing everything from my upcoming jewellery creations and events to personal stories and current inspirations. Of course, special discounts and exclusive invites are in there too.
My presentation for Automaton 20.21
The Automaton Exhibition was a collaboration between 5 Spanish and 5 Canadian artists. 
The project was to be presented at Madrid Joya in Spain, and later at George Brown College in Toronto. We'll see what comes of it!
Even though I did not get to go to Madrid, attend the cocktail reception at the Canadian Embassy and other events, I am kinda glad that this way, more people can see the work. More info >
I have a passion for moving metal, and I like working with line. My creative stimuli are often found in my surroundings. When I begin to translate my inspiration into metal, I work very intuitively, allowing space for serendipity. With the original inspiration in mind, I begin a dialogue with the metal. How does a piece change when I vary the amount of pressure put upon the metal? I work through sample after sample, letting the metal guide me as in call- and-response, developing a conversation between metal and maker. Through a process of careful decision making, both in material and technique, I work the metal, a hard and cold material, into a relationship with the human body, creating adornments that capture the exchange between inspiration and material.
If you'd like to have a further look into the studio, check out an episode which was filmed about me by Maritime Made. This Eastlink TV series is kind of like our very own 'How It's Made'. The show generallyhighlights a broad variety of products which are made here in the Maritimes, and shows how they are made. Here, they have filmed me making my OneFooter rings. I have seen several crafters on this show, including Alissa Kloet of Keephouse. I was delighted to be featured.