I just finished a run of Holiday art fairs, and as always, it was wonderful to meet old friends and meet new ones. While I love being in my studio and making jewellery every day, I also enjoy these opportunities to be 'out there in the world'. I always delight in describing my process of designing and making these pieces, and talking about techniques, and the material and its properties.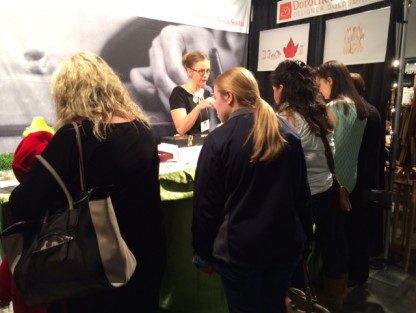 Most of all, I love watching people fall in love with the work, be witness to that little sigh that escapes a woman's mouth when a ring fits just perfectly.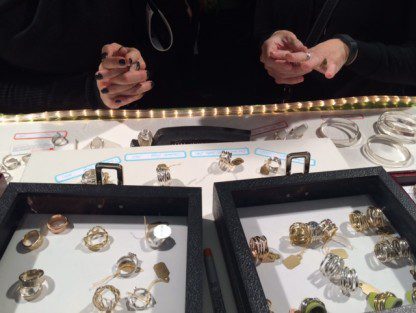 This time, I brought with me a new combination in the Onefooter series: inspired by my wonderful Santa Barbara gallery, Oliver & Espig – Architects of Fine Jewelry, I started using coloured sapphires. I just love working with those stones – their wide array of colours continue to inspire me. Every time my Montreal gem dealer comes to town, she brings me an array to choose from. Back in the studio, I get to decide which stone best matches with which ring.
For this round of shows, I had set a sparkling pink sapphire into a rich 18k yellow gold Onefooter, which resulted in such a very juicy ring, and a gorgeous blue sapphire into a sterling silver ring, a different, and quite affordable, combination. I loved watching people drool over the combinations, until the pink stone got to go home to be under the tree of a very lucky Vancouver lady.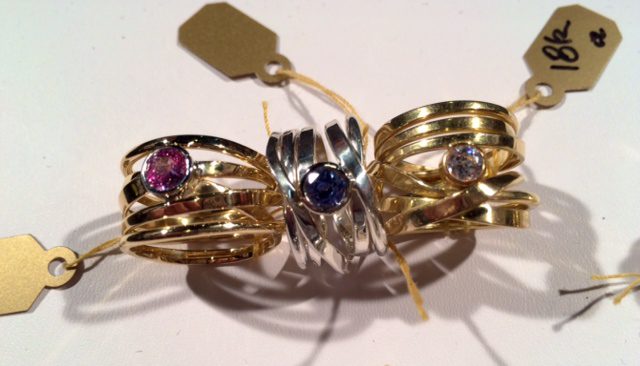 The other part I love about doing shows is hearing stories about people's experience with my work, where they bought it or how they were gifted it, where someone remarked on it, and so on. Beth stopped by my booth in Halifax to tell me how much joy the ring she bought from me four years prior still brings her all the time. It was a very special piece, a one-of-a-kind ring that examines the relationship between the creative and chaos/order. Several words are stamped onto spinnable bands around the ring; depending on how you turn each band by its little precious jewel knobs, a variety of sentences can be made. Beth remarked that "It's the piece I get the most comments on, all the time".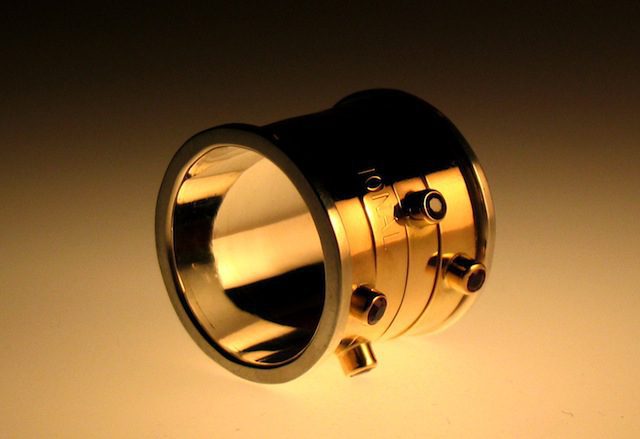 These days, I don't get much chance to be that explorative in my work. The good news is that I have been accepted for an industry-only special exhibition this coming February at the Atlantic Craft Trade Show (ACTS), entitled '[email protected]'. For this exhibition, I will create a whole new body of work, which will then be examined and critiqued by a number of outstanding jewellery gallerists. Of course work has begun on this already, but I really look forward to deepening my exploration over the next couple of months. Stay tuned to find out what emerges!