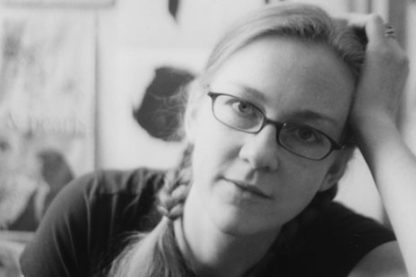 I was born in Germany and immigrated to Canada in 1989 at the age of 19. In 2005, I graduated from NSCAD University with a major in jewellery design and metalsmithing, and a minor in art history (focus craft). I was honoured to be the recipient of various awards and scholarships, and continue to participate in exhibitions in Canada and the US. I create in my studio in Halifax. My work is available in my online shopà mon studio, through several galeries in North America, or through custom work.
You can find out a lot more about me:
Want to get to know me better?
Honestly, one of my favorite things to do is write my weekly Artisan's Circle newsletter. I so enjoy sharing everything from my upcoming jewellery creations and events to personal stories and current inspirations. Of course, special discounts and exclusive invites are in there too.
My presentation for Automaton 20.21
The Automaton Exhibition was a collaboration between 5 Spanish and 5 Canadian artists. 
The project was to be presented at Madrid Joya in Spain, and later at George Brown College in Toronto. We'll see what comes of it!
Even though I did not get to go to Madrid, attend the cocktail reception at the Canadian Embassy and other events, I am kinda glad that this way, more people can see the work. More info >
J'ai une passion pour le mouvement du métal et j'aime travailler avec les lignes. Mes stimuli créatifs se trouvent souvent dans mon environnement. Quand je commence à traduire mon inspiration dans le métal, je travaille de manière très intuitive, en laissant un espace de sérendipité. Avec l'inspiration originale à l'esprit, j'entame un dialogue avec le métal. Comment une pièce change-t-elle lorsque je fais varier la pression exercée sur le métal? Je travaille échantillon après échantillon, laissant le métal me guider comme dans l'appel et la réponse, développant une conversation entre le métal et moi-même. À travers un processus de prise de décision minutieuse, à la fois en terme de techniques priorisées ou le choix de la matière, je travaille le métal, un matériel dure et froid, dans une relation avec la position sur le corps humain, créant des ornements qui capturent l'échange entre l'inspiration et la matière.
Si vous souhaitez jeter un œil au studio, découvrez un épisode qui a été filmé par Maritime Made. Cette série télévisée Eastlink est un peu comme notre propre "How It's Made". La série met généralement en évidence une grande variété de produits fabriqués ici dans les artiste des Maritimes et montre comment ceux-ci sont fabriqués. Ici, ils m'ont filmé en train de fabriquer mes bagues OneFooter. J'ai vu plusieurs artisans sur cette série, dont Alissa Kloet de Keephouse. J'étais ravi d'être présenté.