Welcome to your personalized wishlist, a place to keep track of all of your favourites. Start by hearting ♡ your favourite products from the magasiner. All your saved favourites will appear here. 
Make sure to login or create an account to save your wishlist on future visits.*
Browse through my online jewellery shop.
Click on the heart ♡ over the product image to save your favourite pieces.
Access your wishlist anytime by clicking on the heart in the navigation bar: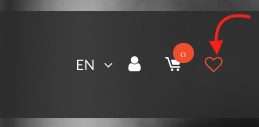 Below your wishlist, you can see buttons to share your favourites easily.
*Note: wishlists created while not logged in will be lost when your cookies expire.
Vous avez certaines difficultés? Visiter la page FAQou contactez-moi pour vos questions.