Materials, Sustainability, & Fairmined Metals
Environmental sustainability and ethical sourcing are priorities. I have used 100% recycled silver and gold since I began forging it, but had the chance to improve my sourcing in the last couple of years: 
I am now proud to be one of only 11 Canadian jewellers using gold and silver that is Fairmined. I have personal connections to my pearl and coloured gemstone suppliers. All my diamonds are certified Canadian-mined, or now SCS certified responsibly lab-grown. 
I also work with client's heirloom diamonds, which reduces the need for new mining or production.
I continue to refine these choices. Please do not hesitate to me contacter
with any questions or concerns.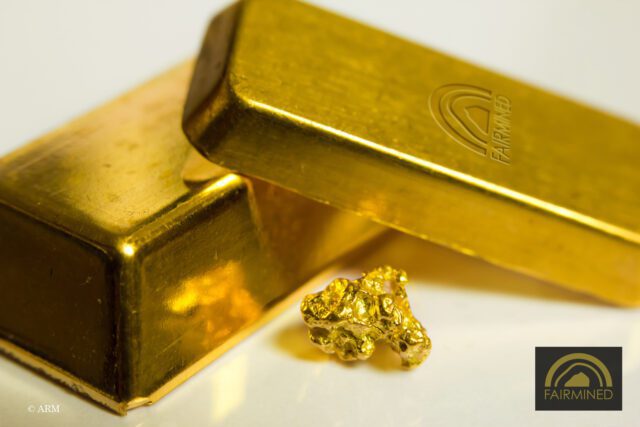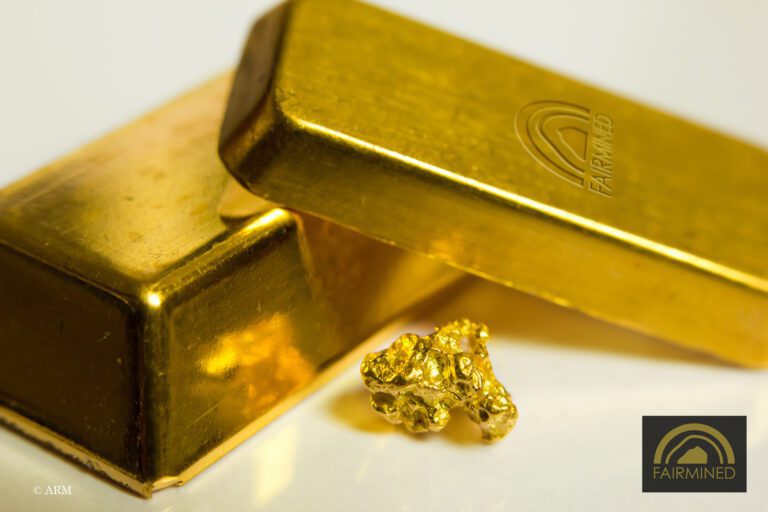 Metals
It has been my mission and ongoing journey to find the most ethical and sustainable precious metals for all of my jewellery. I use 100% recycled as well as fully-traceable Fairmined gold and silver.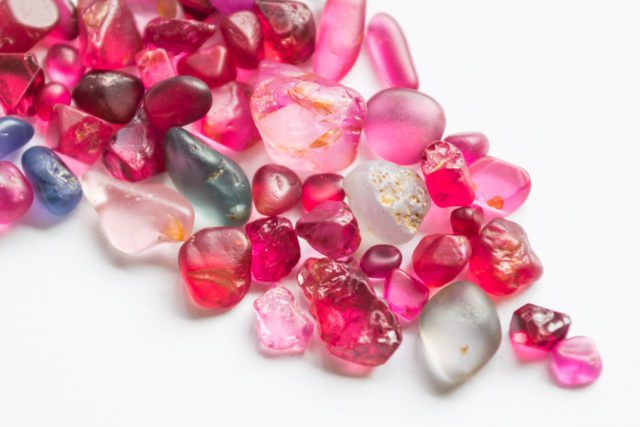 Gemstones
I source both natural Canadian diamonds as well as labgrown diamonds, and am a SCS certified retailer for sustainable diamonds. Sapphires & other gems come from trusted suppliers, who follow their own careful ethical standards.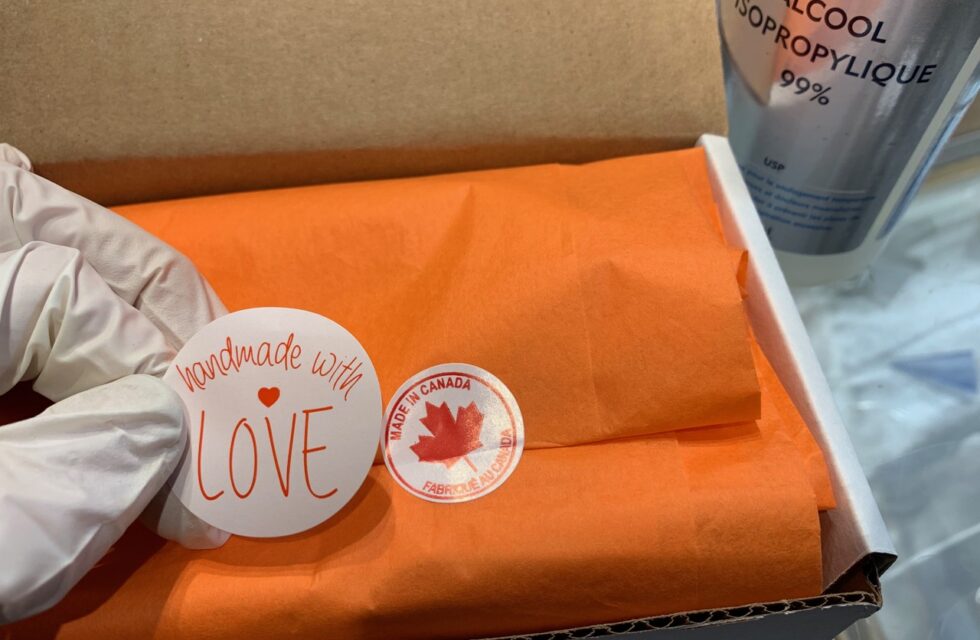 Shipping & Packaging
From  reusing packaging material to sustainable jewellery packaging, to shipping with either Canada Post which has a comprehensive net-zero carbon plan, or carbon-neutral with UPS.  I always try to cut down on my footprint, for example through a CarShare membership.
Conflict-Free | Transparent | Traceable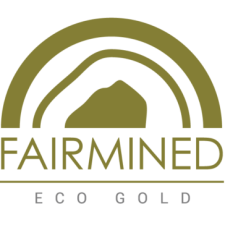 As of 2021, I am using either 100% recycled or Fairmined gold. Having used 100% recycled gold for the last 20 years, I am now increasing accountability and will be using Fairmined (ie fairly-mined from Peru), whose certifications have the strictest standards when it comes to sourcing. The ECO Fairmined certification goes even further in ensuring there is no use of cyanide or mercury used in the extraction of gold (a common practice in goldmining, otherwise). My Flow Series is made from this Fairmined Gold To Be Proud Of.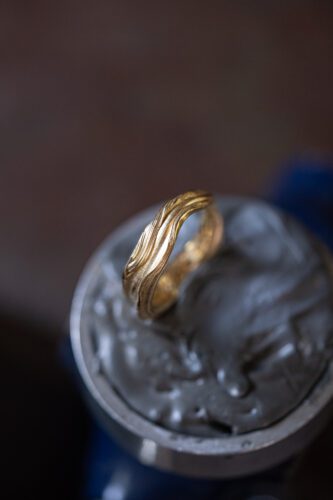 Watch the one-minute video: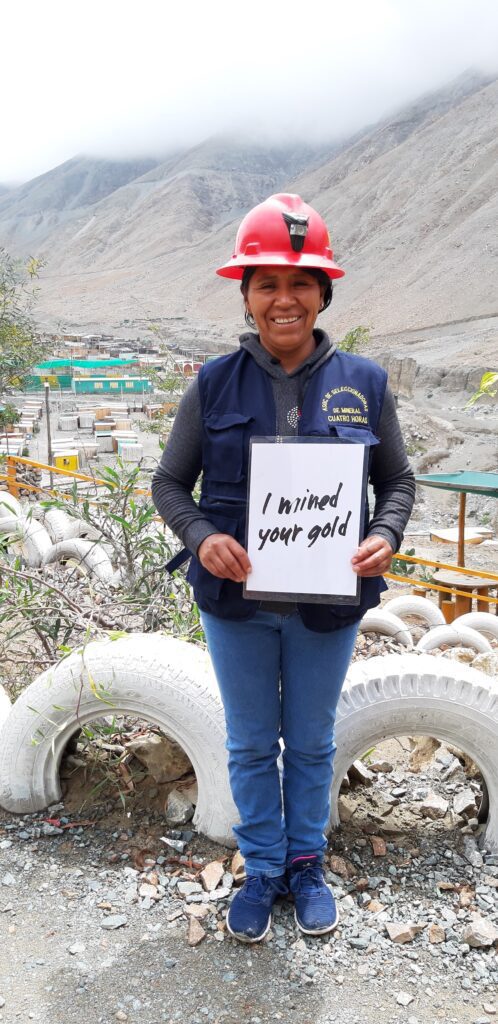 Fairmined™ is an assurance label that certifies gold from small-scale mining organizations embracing responsible practices. Positive change in small-scale artisanal mining, the promotion of sustainable social-economic development and environmental protection are the objectives of this wonderful initiative. The Fairmined certification system is audited by independent, accredited certification organizations, ensuring that the mining organizations comply with the requirements of the Fairmined Standard. The journey of the gold is then tightly traced and the entire supply chain audited, all the way from the mine to the goldsmith to bring you Gold To Be Proud Of.
What does FAIRMINED mean?
What about FAIRMINED ECO Gold?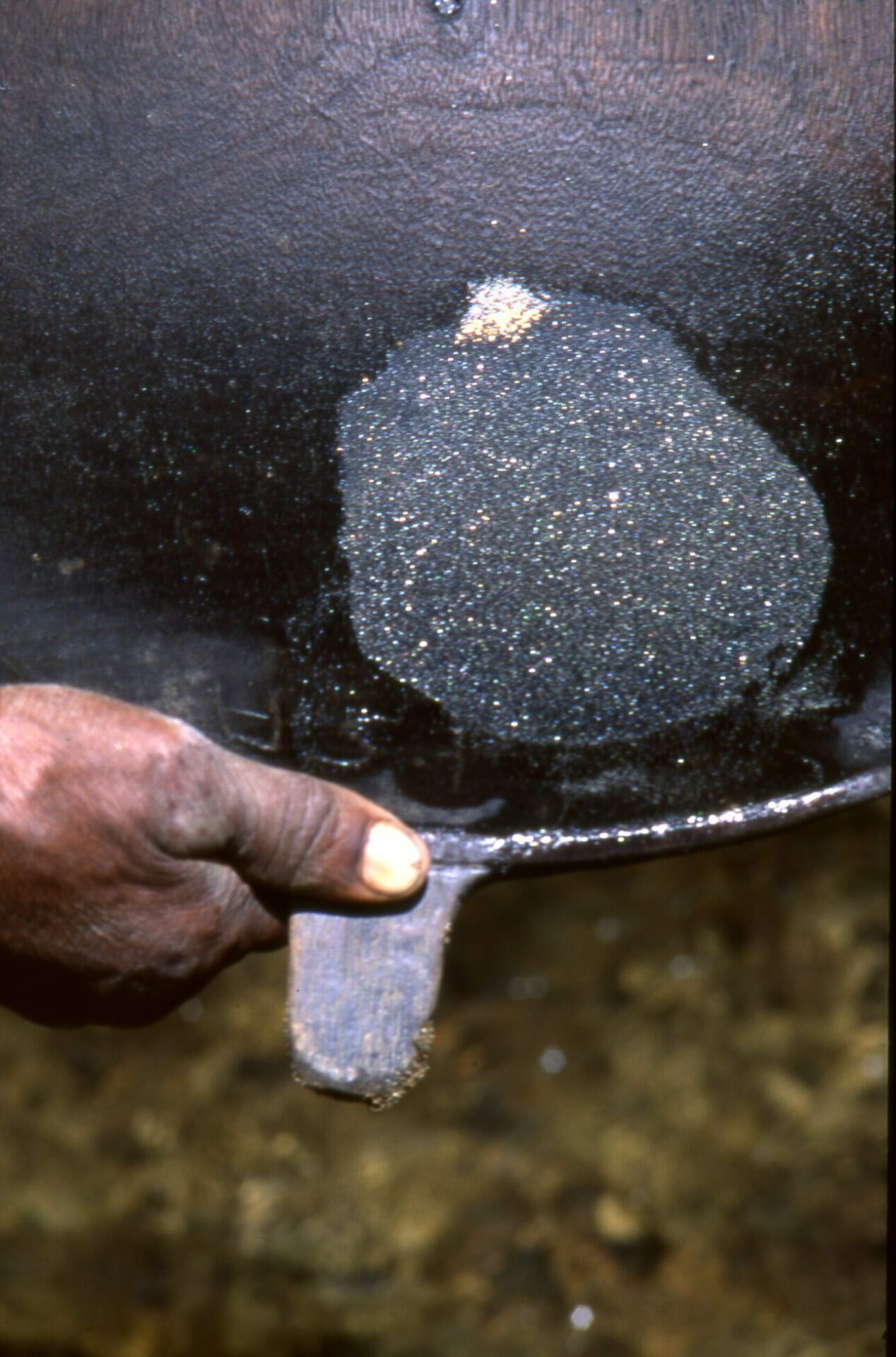 It is important to me that the art I create is not only beneficial to myself and those who wear my jewellery, but also to the small scale, artisanal miners and their communities.
Les boucles d'oreilles de la série Fairmined Eco Gold that I use is responsibly sourced from a Oro Puno mine in the Ananea district, Peru, which achieved its Fairmined status in March of 2020.
Is Fairmined the same thing as Fairtrade?
They are similar, but different. While Fairmined et Fairtrade both aim to better working conditions and wages for workers, they are in fact two different certification systems. (You may have heard of Fairtrade chocolate and coffee –there are now many Fairtrade commodities available, including gold.) When considering both certifications, ultimately I felt Fairmined was the most progressive, as it was specifically created to address metal mining and its standards for wages, working conditions, health, community, and environment. Fairmined ECO is also the only certification to ensure that the gold is mined without the use of toxic chemicals such as mercury and cyanide. 
Where does gold comes from, why you should care, and how you can make a difference?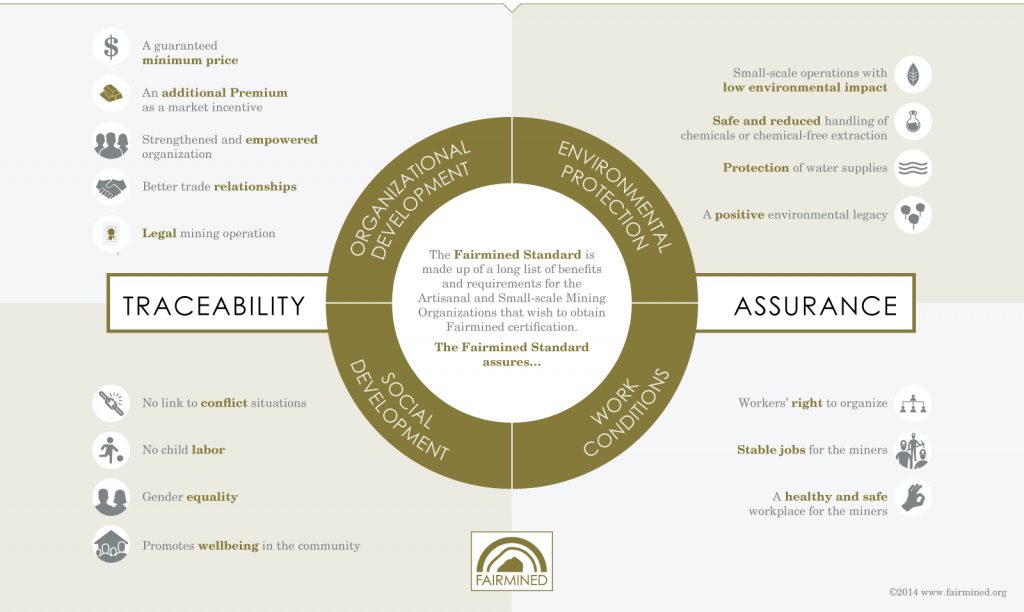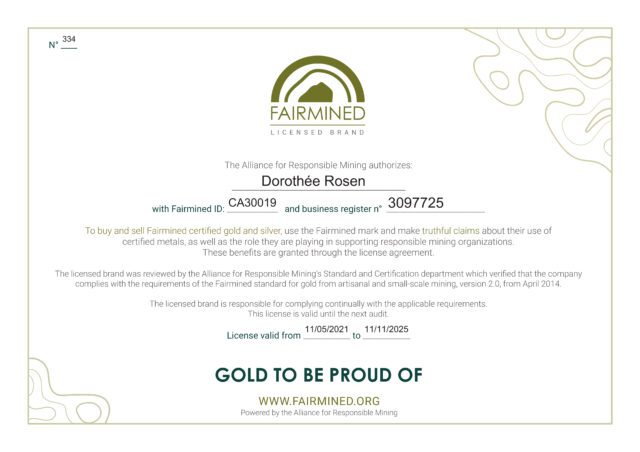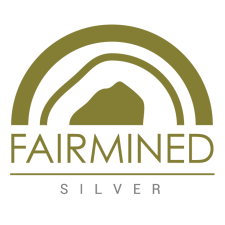 Did you know silver is a by-product of gold?
Silver, as well as copper, is a by-product of gold mining.
There is not a lot of it, but I was able to get some, which is why I can now offer my sterling silver rings in the Série OneFooter exclusively in ethical Fairmined™ sterling silver. This silver comes from the Iquira mine in Columbia. 
Similar to the sustainability and ethical standards of Fairmined gold, Fairmined silver certification means:

Recycled Gold & Sterling Silver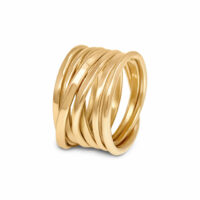 I source my sterling silver and gold for most of my jewellery, such as the OneFooter series, from Umicore and Stuller Inc. Cast materials for items like those in the Dragonfly Series are recycled metals from Montreal-based SR2 Technologies. Sometimes, I have used palladium sterling silver for the OneFooter rings with gems. This highly valuable material is far superior to regular sterling silver; it is stronger and much more tarnish resistant.
The white gold I use is unusual. It is called 'palladium white gold'. It is a much more superior alloy, as palladium is a highly pure metal; alloyed with pure gold, it creates a gorgeous white-ish precious metal, which looks a bit more like platinum than commercial white gold.  It is a highly valuable metal, which does not have to be rhodium plated again and again like commercial white gold. I only work in 18k.
Even though it is incredibly durable and strong, 18k Palladium white gold is very malleable – it loves being forged, and thus lends itself to the forging technique I use. I appreciate its density and colour very much – it is very contemporary. Best of all, it is hypo-allergenic, as it does not contain nickel.
Further reading from my blog:
Natural diamonds fascinate me deeply. Having come into existence billions of years ago deep in the earth, they were carried closer to the surface in kimberlite pipes hundreds of millions of years later.
All diamonds are simply carbon molecules – compressed under tremendous heat and pressure. While this can be replicated in a lab in a manner of a couple of weeks today, using microwave energy in pressure chambers, there is something immensely magical about natural diamonds, each of which would have formed slowly over a very long period of time, some over 660km below the earth's surface, more than a billion years ago.
I truly appreciate working with natural diamonds from Canada's North.
Canada's diamond mines yield a higher ratio of pristine, gem-quality diamonds in comparison to the output of other countries. They are noted for exceptional colour, clarity, and lustre, as well as low levels of fluorescence. These exceptional diamonds have certification papers and a laser inscription in the girdle of each precious stone.
But most importantly, going above and beyond Canadian labour and environmental standards, these diamonds are: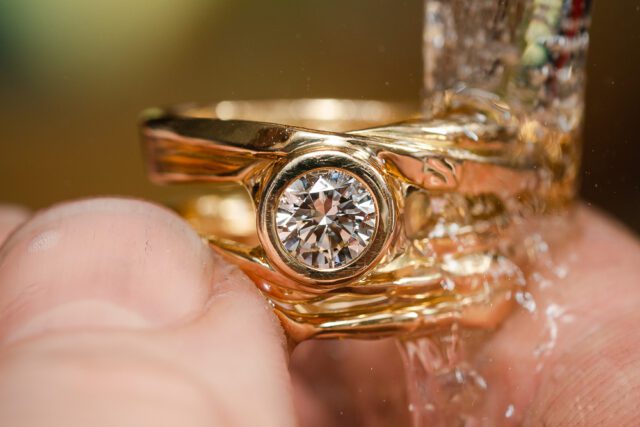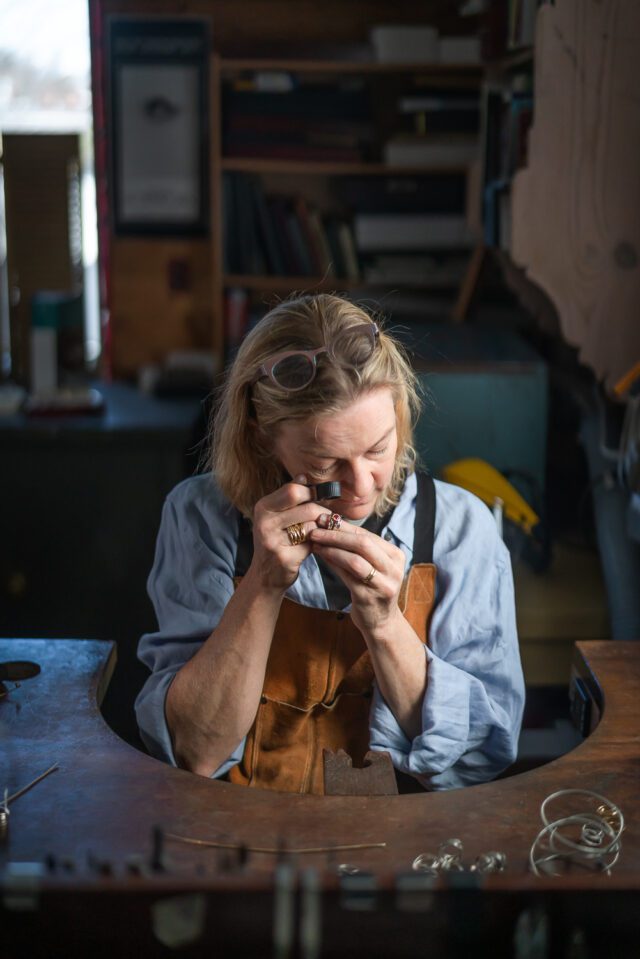 La plupart des diamants que j'utilise proviennent des mines Ekati et Diavik dans les Territoires du Nord-Ouest, une région reculée et stérile près du cercle polaire arctique. Depuis la découverte de diamants dans cette zone dans les années 1990, ces mines ont fait l'objet d'évaluations environnementales intensives liées à des processus d'autorisation rigoureux. En collaboration avec les groupes autochtones locaux, un soin particulier est apporté pour assurer l'intégrité à long terme des terres, de l'eau et de la faune. Les mines sont signataires d'accords environnementaux impliquant des groupes autochtones locaux, les gouvernements fédéral et territoriaux. De plus, les mines ont une histoire établie de développement de technologies et de processus pour aider à conserver l'environnement.
Labgrown diamonds are often touted as being more ethical or sustainable than mined diamonds. This, however, is not necessarily true. As with everything: it depends on how and where labgrown diamonds are manufactured.
Searching for the most ethical option possible in this realm, I discovered SCS certified sustainability rated diamonds. There were hoops to jump through to get accredited, but I did it, and am proud to now offer these truly 'clean' lab-grown diamonds to my clients alongside natural certified Canadian diamonds, which – of course – have their own clean ethical standards. The choice is yours. Let's talk about what size, colour, cut, clarity and type of diamond you want me to source for you!
The video introduces SCS 007 Certified Sustainability Rated Diamonds, a new standard in the jewelry industry that offers a unified framework for assessing the sustainability of mined, lab-grown, and recycled diamonds. It emphasizes third-party verification, scientific backing, and covers five pillars of sustainability: Origin Traceability, Ethical Stewardship, Climate Neutrality, Sustainable Production Practices, and Sustainability Investments, encouraging consumers and industry players to demand transparency and support sustainable practices.
Saphir et autres pierres précieuse
Le saphir, le rubis, l'émeraude et le diamant ont toujours été les pierres précieuses les plus importantes. Le saphir est une variété de gemmes de corindon dont les ce groupe comprend également des Rubis et d'autre Saphirs aux couleurs excentriques.
De leur site Web: «Pendant des siècles, le saphir a été mis en évidence dans les bijoux. Sa dureté, sa stabilité et sa ténacité le rendent adapté à tous les types de bijoux. Les nuances de bleu infinies de Sapphire en ont fait l'un des joyaux les plus populaires au monde. "
Couleur
Beaucoup de gens ne savent pas que le Saphir peut être trouvé sour toutes les couleurs de l'arc-en-ciel.
All shades of blue corundum are referred to as simply sapphire, whereas red corundum is called ruby. All other colours are considered fancy coloured sapphires and are named for their particular hues for example: pink sapphire, yellow sapphire, green sapphire etc. The most sought after fancy coloured sapphire is the orangey pink variety known as Padparadscha, which means 'lotus flower' in Sinhalese.
Tous les membres dela famille des corindons partagent une composition chimique et une structure cristalline communes, tandis que des traces de différents éléments chimiques sont responsables des différentes couleurs des différentes variétés. Le saphir, lorsqu'il est bleu, est coloré par de petites quantités de fer (Fe) ou une combinaison de fer et de titane (Ti). Ces éléments absorbent des parties du spectre de la lumière visible produisant la couleur bleue que nous percevons.
Sourcing
Sapphires are mined all over the world. Often, they are not cut in the country where they are mined. Very seldom is their provenance known, although a professional laboratory can identify the origins of a sapphire, based on its geochemistry and inclusions.
My gem merchant, who is the International Coloured Gemstone Association's Ambassador for Canada, has traveled to Australia and Sri Lanka herself (see video above), in order to ensure ethical standards of sapphire mining and cutting. I appreciate this level of accountability, and the fact that there is such a direct connection to the origin of these stones.
Les gisements de saphir les plus importants se trouvent au Sri Lanka, au Myanmar et en Thaïlande. Les autres pays producteurs sont l'Australie, le Cambodge et les États-Unis.
Les saphirs sont régulièrement traités pour améliorer leur apparence. Différentes températures et conditions de chauffage peuvent produire une vaste gamme de résultats: les pierres sombres peuvent être éclaircies, les pierres claires peuvent être assombries, les inclusions peuvent être dissoutes pour améliorer la clarté et les inclusions peuvent être introduites créant des effets d'étoiles. Ces traitements sont stables et beaucoup peuvent également être utilisés pour améliorer l'apparence des saphirs colorés fantaisie
Each diamond is tracked from rough crystal to the final product, creating an unbroken chain. Each polished diamond is laser inscribed with the ArcticMark logo, an image of a maple leaf and a unique serial ID number to guarantee its authenticity. When a diamond bears the ArcticMark logo, you can be certain that it's an authentic Canadian diamond. Every diamond is natural, pure and ethically mined.
Umicore has the highest standards for environmental, business, and social sustainability and responsibility. They are an active member of the Jewellers Vigilance Canada. De plus, leur site de fabrication est également membre certifié du Responsible Jewellery Council. Une grande partie de leurs matériaux sont recyclés, et ils ont une interdiction sur les matériaux de la République du Congo et des pays voisins.
Gold and other precious metals should be mined and refined in a sustainable and responsible manner that respects both the needs of humanity and our environment.
Stuller's position on responsible mining procedures goes much further than the gold mining process itself. It encompasses all aspects of gold: appropriate mining methods on conservation, remediation and fair labor practices. It also includes proper refining; correct handling of aqua regia acid, scrubbing fumes and clean emissions.
Anti-Money Laundering (AML) Status
As a responsible jeweller, I undergo an anti-money laundering audit (AML Audit) every two years. I am currently valid until April 2024
In keeping with my values of sustainability, I often re-use packaging material, as long as it is sanitary. For two years after my kitchen reno, I used the recycled cardboard spacers my kitchen came packed with, in my shipping cartons to stabilize jewellery boxes and keep them from moving around.
Canada Post has comprehensive sustainability reporting and plans, including investment in renewables, increasing their number of low-carbon vehicles, and a path to reach net-zero carbon emissions by 2050. They are also "taking steps to better support Indigenous People through improved postal services in Indigenous communities as well as increased opportunities to work with Canada Post."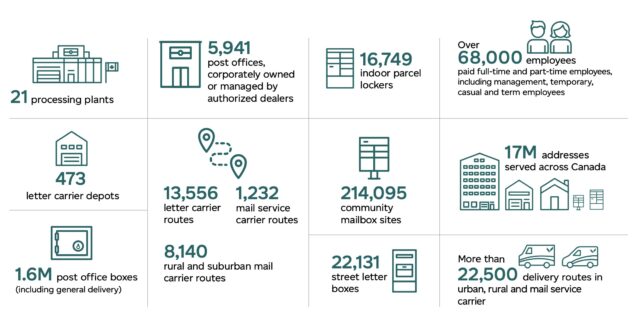 UPS has both a sustainability action plan including a target to be energy net-zero by 2050, as well as yearly sustainability reports. When I ship UPS, I use their additional carbon neutral shipping option using Natural Capital Partners.