Dear WestVan,
thank you for having me.
The annual Harmony Arts Festival is just such a joy ! I remember the first time I was invited to participate in this wonderful event – and what a delight it has been, ever since! A big round of applause to the many people who make that show happen, including Natalie and her team, and the many volunteers.
Thank you also to all my clients who stopped by to tell me how much they love the pieces they've purchased from me over the years – your appreciation really means a lot to me.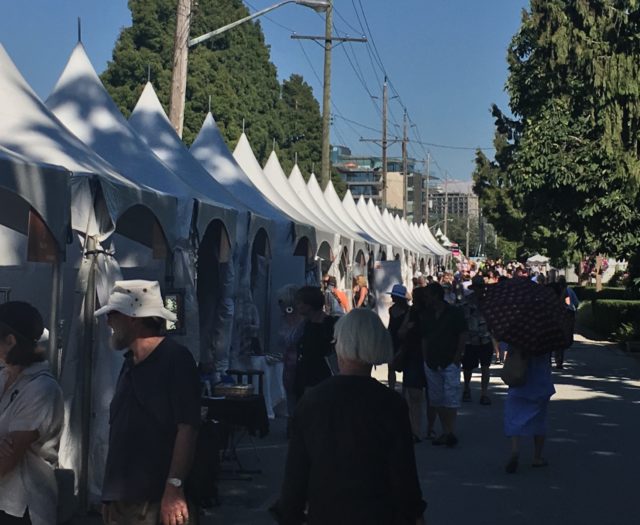 I am back in Halifax now, creating the special pieces that were ordered at Harmony, taking apart old pieces to give them a new life, and filling orders for the many galleries which represent my work. This week, I participated in a local show, the FullMoonMarket at Halifax's historic Keith Brewery building.
Next month I look forward to the annual Garlic Festival, which will be held on the grounds of Avondale Sky Winery on Saturday, September 21st. This event is more fun that you'd think – keep the date earmarked if you are in Nova Scotia! I love the spirit and gorgeous setting of that one.

After that, I will go further afield for a couple of appearances outside of Toronto:
on Friday, Sept 27th, I plan to be at Mountain Galleries East as part of the Stratford's Culture Days. This will be a new gallery for me, and I've never been to Stratford, so am looking forward to that! That weekend, Sept 28 & 29, I will be in Alton Mills at in Caledon, Ontario, for a trunkshow at Gallery Gemma Jewellery Arts, as part of the celebration of their annual Art Show Weekend and the 10th anniversary of their Arts Centre.
November 7- 11 will see me back in Vancouver downtown at the convention centre for the fabulous annual CircleCraft Market – this year earlier than usual!
Following this I will be in Calgary for the first time, at the Calgary Art Market, November 14-17 . Really looking forward to that one!
Finally, a trunk show at Toronto's shopAGO tops off my travel show list. This will take place on November 19th. Meanwhile, my work will show at Halifax's DesignerCraft Winter Show 2019.
And whenever I am not on the road, you are most welcome to come see me in my Halifax studio!
I love meeting clients in person, and so I am excited to be able to offer more meet-the-artist opportunities. See you soon across Canada!
Simply make an appointment by emailing [email protected], by calling 902.422.9460, or use the form below: