Yellow gold certainly has been making a huge come-back. But let me introduce you to an alternative: Or blanc palladium 18K.
Palladium white gold is beautifully dense and strong, and is wonderful to work with as a jeweller. Shop my 18k palladium white gold jewellery.
This intriguing precious metal is relatively new to the market, and remains one of the best-kept secrets in the modern jewellery connoisseur's tool bag – a metal so elegant and alluring, yet so durable – it's hard to pass by, yet few know about it.
Commercial White Gold
As I've said in previous columns, gold is always alloyed with other metals in order to create strength, as a softer 24 karat gold, while utterly gorgeous and rich, would be highly susceptible to scratches and other damage. The process of alloying creates, for example, 18k or 14k golds, whereby 18 or 14 parts out of 24, respectively, indicate the pure gold content.   It is worth considering that this means that 18kt consists of 75.0% pure gold, whereas 14kt contains just 58.5% of pure gold – a little over half.
In order to create 'regular white gold ', most typically gold is alloyed with nickel and then plated with rhodium. Nickel does provide added durability, yes, but it's also a common metal allergen and is therefore increasingly less ideal of a choice, not to mention it wears microscopically over time.
Consider also the true value of your piece: nickel is a cheap metal, and thus it cheapens your heirloom piece.  At the time of this writing, gold is at CAD $2442/oz and palladium is over CAD $3,000/oz.   A whole pound of nickel sells for CAD$10/lb, which translates to $0.70/oz.  I rest my case on value. See my current trade-in value for gold here.
From the Point of View of the Goldsmith
I will be honest with you: nickel white gold is not the most pleasant metal for a goldsmith to work with. It is very rigid, and does not like to be 'moved' by way of forging or bending. It is hard on the jeweller's hands and, and surface discolouration problems can arise in the casting process. I believe that my joy of making (or lack thereof) carries through to the pieces I create.  Thus it is important to me that the metals I use are enjoyable to work with. I hope that makes sense.
Cover-Up
The alloy of gold with nickel creates a somewhat yellowish metal, which then needs to be rhodium-plated in order to hide the yellowish tinge. The bright white finish you might associate with commercial white gold is actually a thin layer of rhodium – the same material which commercial sterling silver is plated with. This thin layering is referred to 'dipping' or plating white gold.  The application of rhodium is toxic – another reason for a goldsmith to avoid regular white gold.
 If you have an older white gold piece you may notice a pinkish tinge or the yellow hue from the nickel white gold coming through, or skin irritations may start  – time to have that piece re-plated. Or re-built into a palladium-gold one!
Lastly: I am not fond of the idea of putting a 'façade' over anything, including the precious metal I work with.  Why not work in a genuine precious metal which shines on its own?
Palladium White Gold
When I work with white gold, I much prefer palladium white gold for its colour, feel, and superior working qualities. The alloyed palladium is a metal in the platinum family of metals. The alloy's gorgeous dark lustre and palpable density are highly attractive qualities. Palladium white gold lends itself to the forging techniques I apply – it loves being moved. It is a durable, contemporary, and very elegant alloy, which does not contain nickel.
Palladium white gold is beautifully dense and strong. When gold is alloyed with palladium, rather than nickel as in regular white gold, the allergy component is removed. There is also no need to plate this precious metal combination in rhodium, which means it requires less maintenance as rhodium plating typically needs to be refreshed every few years. This genuine precious metal shines on its own. And as palladium is both rarer and more expensive than gold, when the two are combined, the quality and value of the jewellery increases, creating heirloom pieces to last for generations.
Colour and Properties
I work with 18k palladium white gold, which has a more pleasing look than its 14k sibling. This genuine precious metal has a beautiful bright sheen with a darker, greyish hue. This is why, in Italy, it is called "grey gold."  The colour is not as bright white as rhodium, yet more saturated, richer somehow, than platinum. This rich colour offers a bolder contrast to crisp white diamonds, and luscious 18k yellow gold in two-tone pieces. The same goes for stones of blue, green, and lavender. Palladium white gold will also enhance the warmth and depth of yellow, orange and red stones. It is the kind of metal which will make others notice it for its contemporary and sophisticated look – a real conversation-starter. I have to say, it looks particularly good on men, and I have made many elegant, simple yet unusual men's wedding bands in it – unfortunately have no photos, though. 
Lastly, like platinum, palladium white gold is very strong, and beautifully dense – though not nearly as heavy as platinum – and resistant to scratches and tarnish. 
Recap
Let's recap all of the excellent qualities of palladium white gold. Who wouldn't love this precious metal?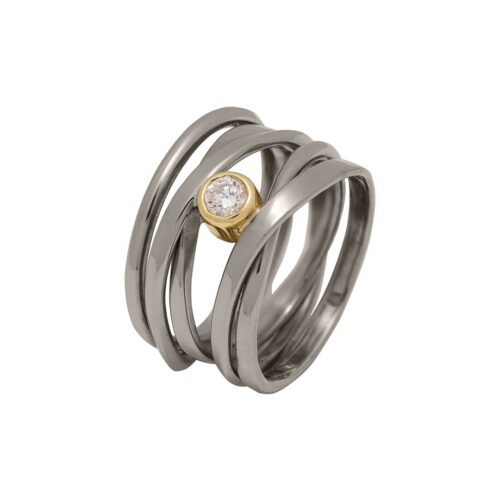 gold alloyed with palladium is a great hypo-allergenic alternative to commercial white gold for those who have a nickel allergy.
It will create a more genuine piece, with nothing covering its true nature
It is not as high maintenance as commercial white gold, as it does not require the facade of rhodium plating.
Similar in look, but not nearly as heavy as platinum
Due to its high quality, it will increase the value of the piece.
Its durability will preserve your heirloom pieces for generations.
I love it
As a goldsmith, I am thrilled to be working with this sophisticated and high-quality precious metal, and would be delighted to create a custom piece in 18k palladium white gold especially for you.
I have had this gorgeous photograph on my desktop for months, waiting for the right moment to share it with you all.  I just love this photo so much. It was the collaboration of the son and daughter of clients for whom I custom-created this 18k palladium white gold and spinel ring. These highschool kids did such a great job with that photo; clearly talented young people! And you can see well the luscious dark tone of this "other white gold".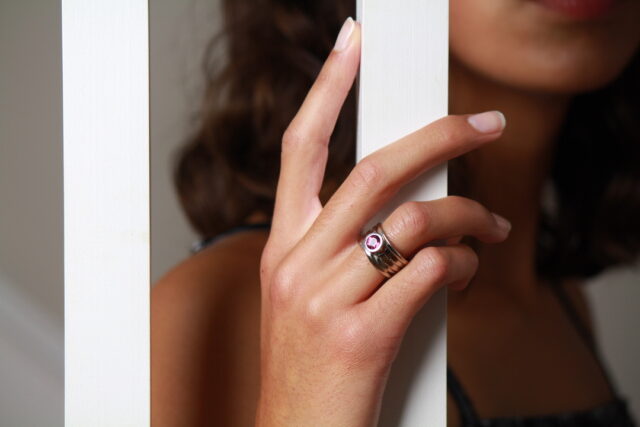 Want to customize your own gold ring?