I am very excited to return to Vancouver next week for the annual Circle Craft Market. This year it feels like I am coming into that fair city on the other end of our changing country with 'rings on my fingers and bells on my toes'. Why do I feel this way? Because I was chosen as the feature artist this year,  for the market and its advertising including bus, banners, posters on subway stations, and print material.

This is such a very special treat, and only possible because of the great black and white photos Paige Littlefair took of me in the studio one day with her old-fashioned film camera. There just is nothing like the feel of a real photo – it's just different from digital, I can't tell how, I just know it is.  I am very grateful to Paige with her patience, skill, and good eye (Paige is about to become a mother – Good Luck, Paige!!). And then Christina Arsenault took wonderful crisp photos of my work – mainly the Onefooter Series, which are featured in the CircleCraft banners and posters.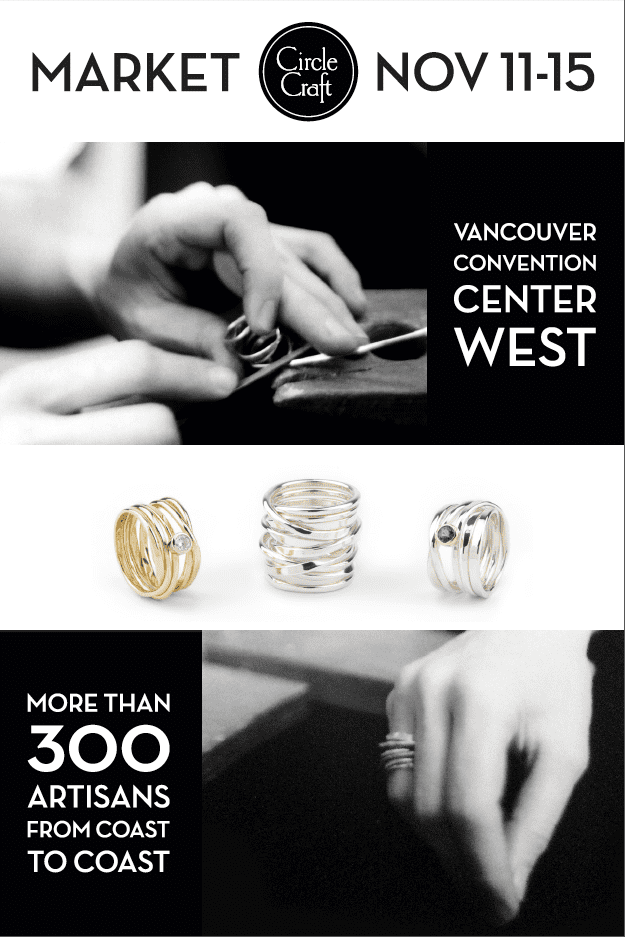 I am still on the complete other end of Canada, in the middle of which exciting things happened today, with the swearing-in of our snazzy new prime minister. I am still here, finishing rings and starting to pack, getting ready for the trip across this entire large country of ours. And that means: I can't see those banners and posters! So I am asking for my readers' help –  those of you in Vancouver: if you see my work or my hands on posters or banners in your beautiful city, please let me know! Send me images to post, or share them yourself on social media, using the hashtags @dorotheerosengoldsmith #OnefooterRing, and @Circlecraft (if you don't use these hashtags & handles, I won't know that you have posted the images). You can find me at Instagram, Twitter, or Facebook.  I would be ever so delighted!
And please: do come see me at CircleCraft Winter Craft Market in Vancouver November 11th through 15th at the Vancouver Convention Centre West.  Get your  tickets online before Nov 11th, and use promo code CCM for $3 off admission! And then come see me in booth #241
I look forward to seeing you there!