I have just returned from a quick and exhausting trip to Las Vegas, where the world of jewellery just convened for several of North America's biggest tradeshows.
If you follow my blog, you will also know that I was, of course, going to be looking for some good food, away from the strip. And I found it! I had an amazing Omakaze (the Japanese version of a  tasting menu) at Raku Grill in Chinatown.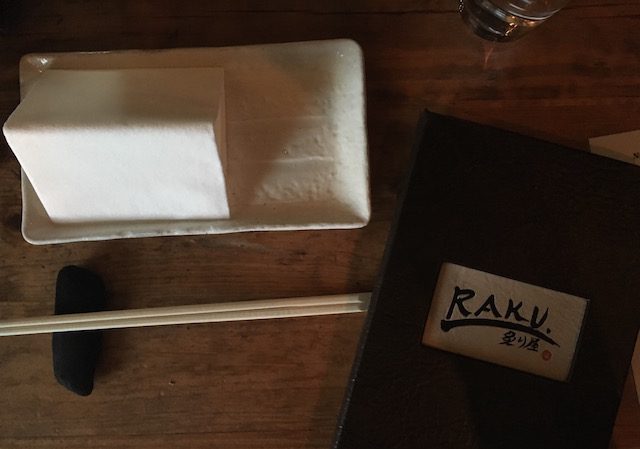 And I really enjoyed the very relaxed and super delicious raw bar Other Mama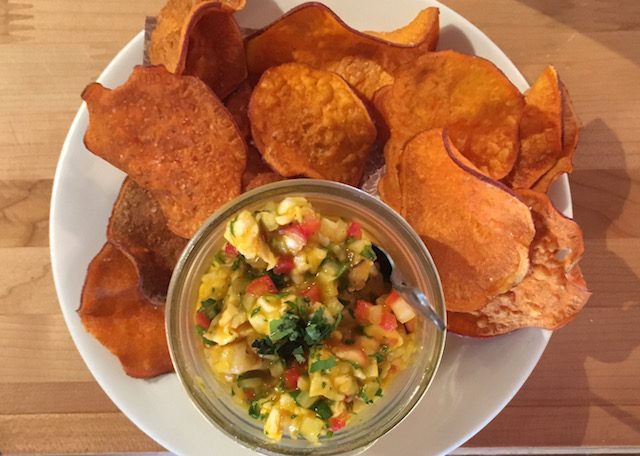 Oh and I happened to come across a tiny lobster shack, that served sustainable seafood (if, indeed, there is such a thing), and I had to have me some Cape Breton lobster – not the most environmentally friendly thing, but worth it for its weirdness of time and place.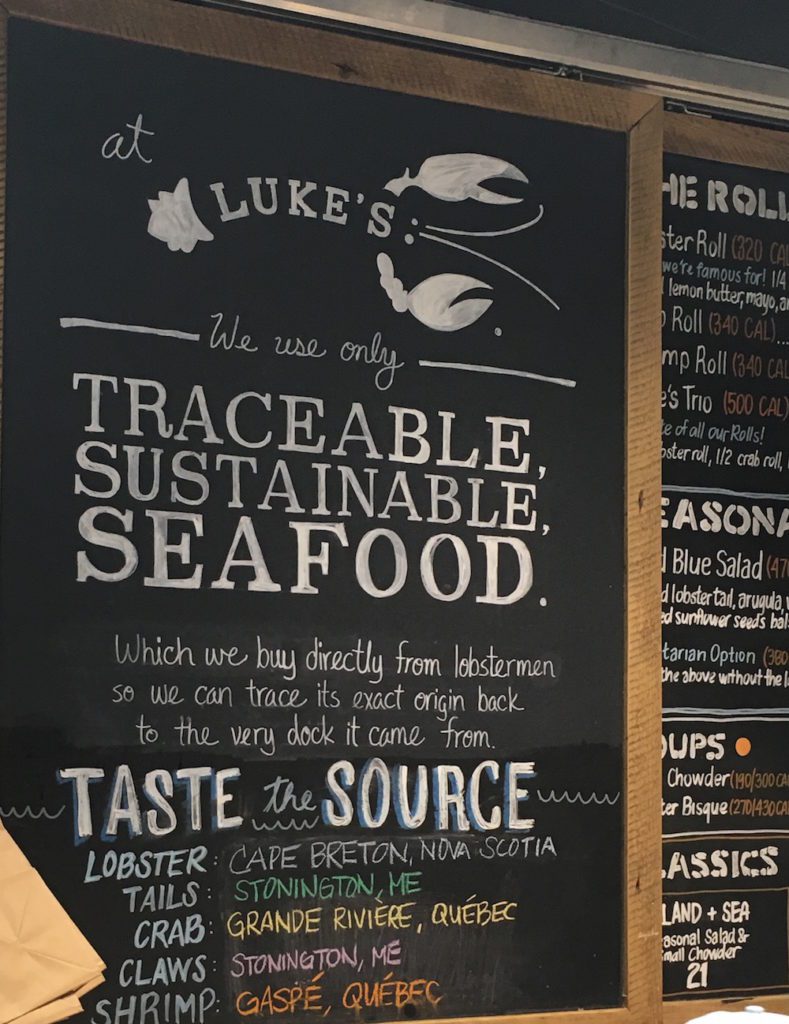 But mostly I was walking these shows. I know it sounds like fun and games to go to Vegas, but this was fairly intense. Sadly, I spent almost the entire time indoors in huge air conditioned halls. Only this morning, on departure day, did I catch a few rays pool-side for literally 25minutes, just for good measure. But that's ok – I was there to learn!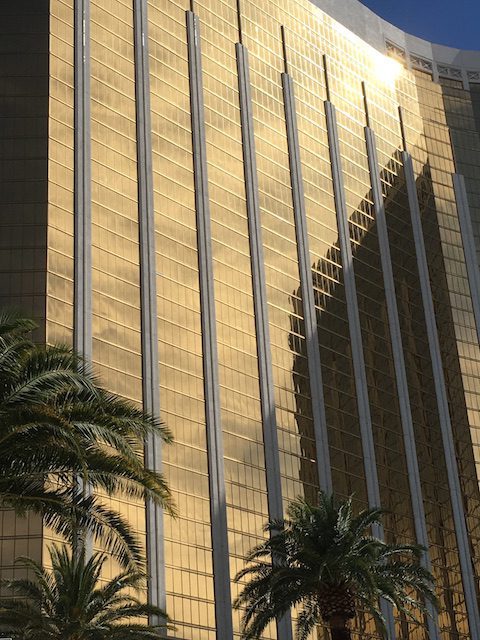 Seeing these shows can be overwhelming. Most everything is machine made, and most of this, oversees. In styles that haven't changed much. Diamond-encrusting is still high on the list.
It can be tough not to loose heart; it certainly made me feel very small!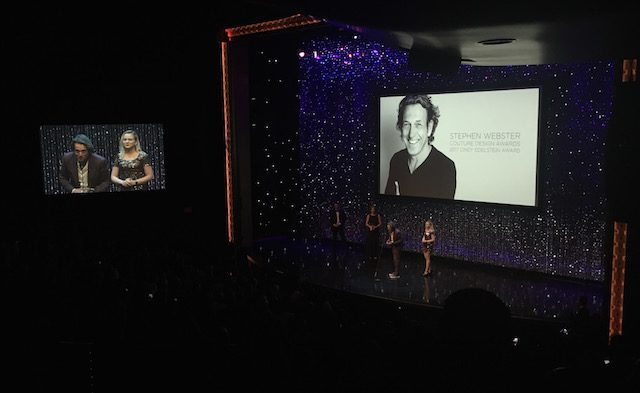 Part of these shows present gems and tools, and supplies. I took the opportunity to talk to many packaging suppliers. It was great to see and feel the materials in person.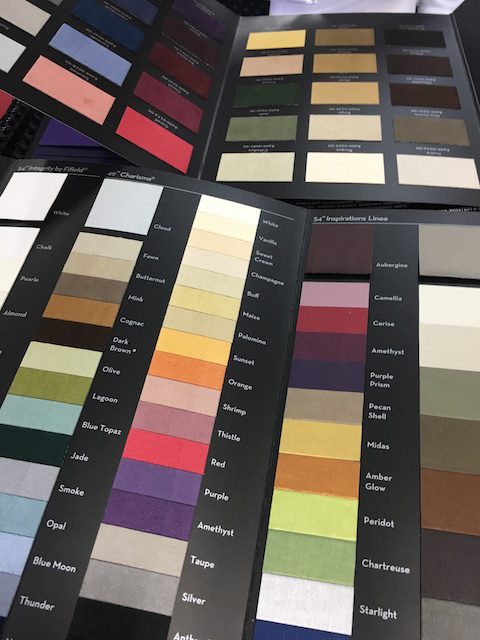 Another highlight were of course the rooms full of gem dealers. Some of them literally had piles and piles of gems. One merchant proudly told me he wheeled in 36 sacks full of gems.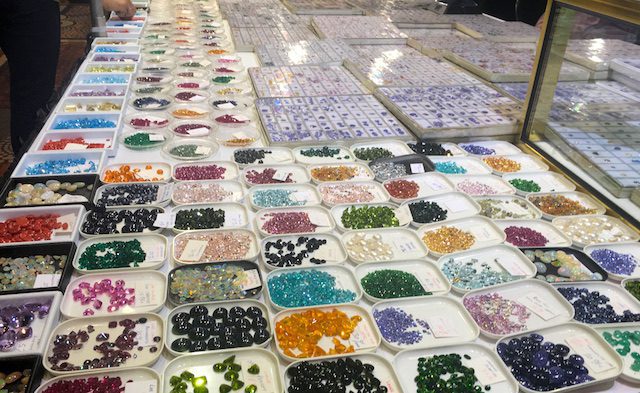 I really had a hard time looking at such a plethora of gems; it made me sad, somehow. It also made me realize once gain how hugely the quality varies, and how grateful I am for having a bond of trust with reliable and certified gem merchants Martine and Benedicte of Pierres de Charme. 

One booth stood out in particular; only few gems were on display, but each one was exquisite. As I started talking to the vendor, I quickly realized that the in fact cuts every single one of these gems himself, after carefully choosing the best roughs he can find. Glenn Preus also never uses any kind of treatment on the stones; all colours are absolutely natural – a very rare find. Such stones are, of course, very very much more expensive than those that are cut overseas for volume and price point.
What is it that appeals to one about something that is brought forth from natural material with skill and with tenderness and appreciation, even love? It speaks to us in a different way. I fell in love with these stones, which are simply exquisite. Each have their own expression, and such fire, from each and every facet being placed just so.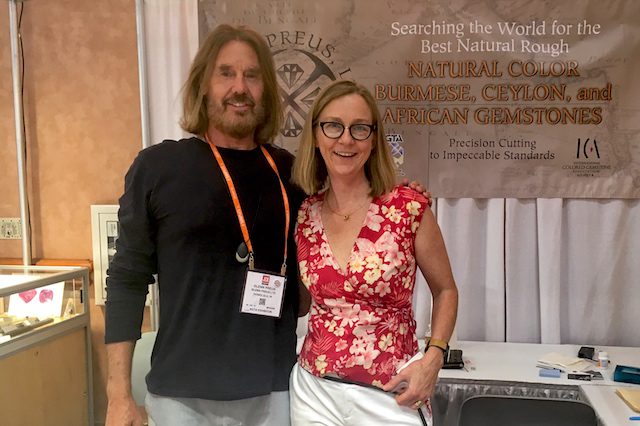 I really don't quite know yet what I can do with these exquisite stones, but I am very excited that, after hours of deliberating, I am bringing them home with me. I will have them with me at shows, and perhaps someone will fall in love with them as I did, and have me set one.
Well, I am writing this on the plane; I will be back in the studio the rest of this week, and the weekend.
My next gig will be the Avondale Sky Ginger Festival June 17th, and then off to Harmony Arts Festival in West Vancouver. For all my show dates, check my events page, ici.