Ring Size Guide
---
 By the way, I would love to send you a
complementary ring sizer
for the most accurate results!
For other ways to measure,
checkout my printable guide.

---
OUT OF STOCK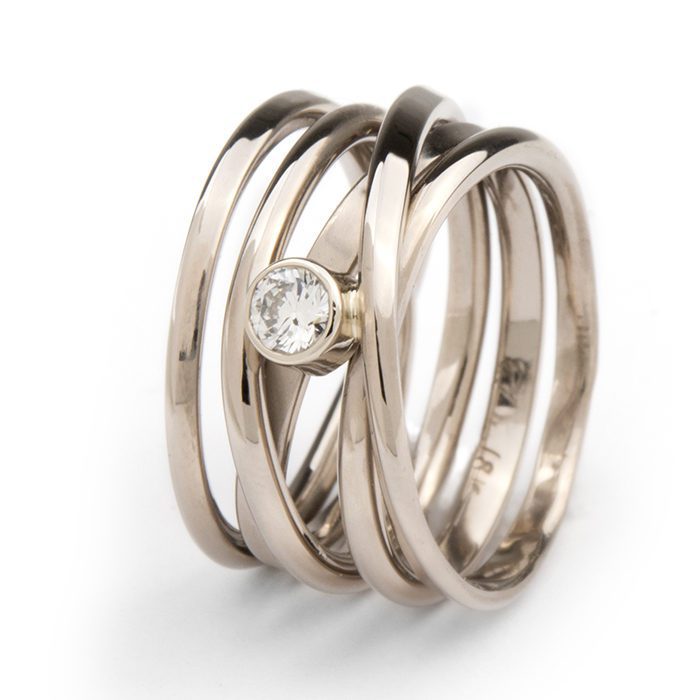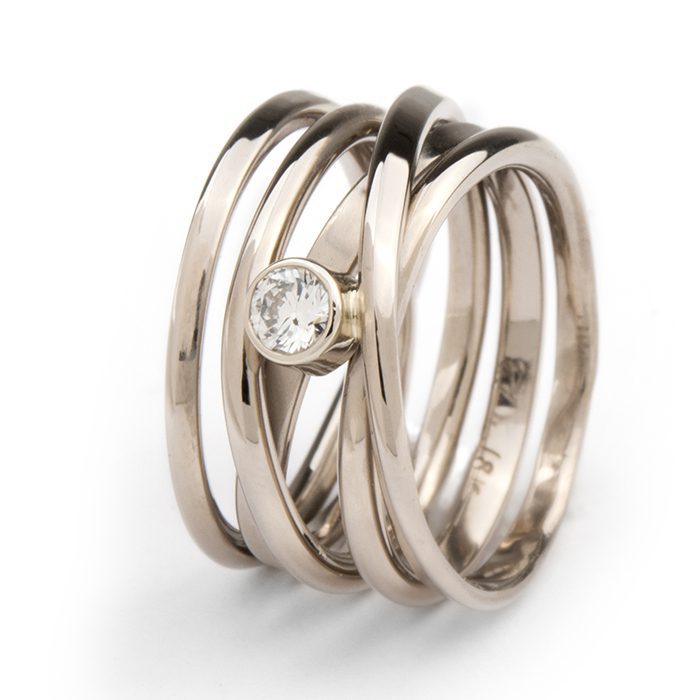 Bague Onefooter avec Diamant Canadien - Or blanc Palladium 18K
This product has been sold
Description
Je suis très contente d'avoir trouvé ce matériel: de l'or blanc palladium sans nickel 18K, qui ne nécessite jamais de placage au rhodium comme le doit l'or blanc commercial. Ce matériel est beau à travailler et j'apprécie son éclat sombre. Cette bague commence avec un pied de fil d'or 18 carats, qui est d'abord poussé et tiré dans différentes directions, puis tournée à plusieurs reprises en une boucle continue, s'enroulant autour du doigt plusieurs fois sans que nous y voyons ni le commencement ni la fin. Ensuite, j'y ajoute un éclatant diamant canadien d'un quart de carat extrait de la mine de façon éthique.
Cet bague a généralement 5 anneaux, mais cela peut varier en fonction de la quantité de métal forgé et de la taille de bague. La largeur moyenne est de +/- 1 cm (environ 3/8 ″).
Cette pierre est un diamant éthiquement certifié Canadian et il est à peu près d'un quart de carat. Je prends beaucoup de temps de pour m'assurer de choisir de bonnes pierres de qualité pour mes bagues Onefooters. La nuance est généralement de couleur G ou H, et de clarté SI1 ou SI2, avec une excellente coupe et brillance.
Chaque bague est unique et différente, pas deux sont pareilles!
Fait en Or blanc palladium. Aussi disponible en Or jaune 18K.
Please note that diamond rings are made-to-order and may take up to 8 weeks to make.