I am delighted to announce that, beginning today, there will be a special exhibit at Fireworks Gallery  in Halifax, as part of Nocturne – Art at Night. Nocturne is an amazing annual event, bringing art to everyone, for free, every year. I love the event, and it's been a tradition in our family to wonder the streets together that night and continue to be amazed. We hop on and off free transit, often being serenaded by artists along the way, going from exhibition to exhibition.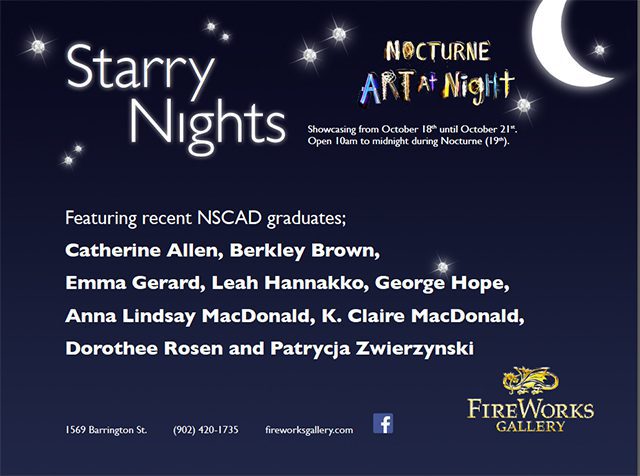 I am honoured to be in this exhibition with my colleagues and fellow NSCAD alumni, for example Catherine Allen, and Berkeley Brown.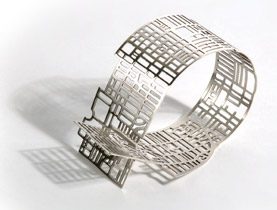 It is nice to be in a show with Berkeley, whom I have known since she was a little girl, and who got her first tastes of jewellery-making in my studio many many years ago. Since graduating from NSCAD, she has spent a lot of time in the UK to further her training.
I had been in classes with Anna Lindsay MacDonald, whose work often revolves around maps, and George Hope.
And there are some artists whose work I am not familiar with: jewellery and glass artist  Emma Gerard, Leah Hannakko, K.Claire MacDonald, who does interesting work combining painting and metalsmithing, and Patrycja Zwierzynski, who seems to be collecting a lot of awards.

I set some Canadian diamonds into gold Onefooters for the occasion, and this will also launch the baguen MapleWrap. rings in Halifax.
So come on by during Nocturne, or any time this weekend. The show will be up starting today, and to the end of Monday, October 21st. Fireworks is located at 1569 Barrington Street. Don't forget to check out the awesome decorative ironwork on top of the building, which I wrote about ici!  Thanks so much to Fireworks Gallery for supporting local artisans, not only through exhibitions such as this one, but through buying local for decades!!!