Materials and Process – Passions of a Goldsmith – that was the title of my graduating exhibition at NSCAD University's Anna Leonowens Gallery in 2004.  So long ago! Good early perception, though: I already knew that my passion for the materials and processes of this amazing trade of gold/silver/copper/metal-smithing is what drives me.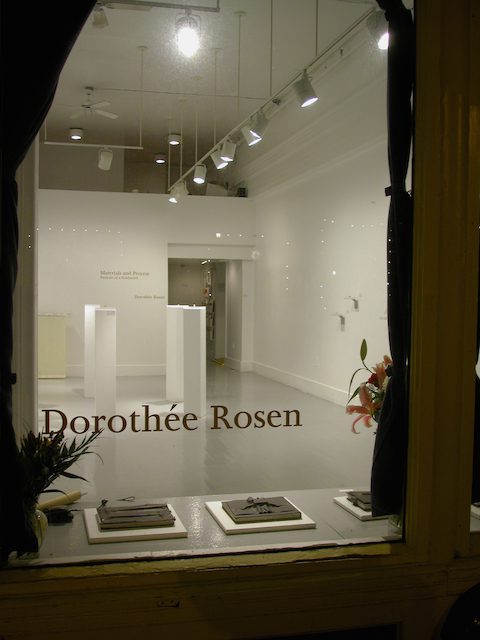 That exhibition marked the end of a tremendously important time in my life.  It was hard to figure out the logistics to keep going following graduation, two kids in elementary school and suddenly no studio. But my passion kept driving me further. I set up a studio in the Arts Annex of the Seaport Market and kept working towards another solo exhibition two years later, this time at the Mary E. Black Gallery. It was a time of tremendous outpouring. I think I will post some photos from those shows, one of these days.
Tonight though, I happened to stumble across a poem which I wrote somewhere around that time. It's a little intense – I hope you don't mind my sharing it here. Even to myself when reading it again after quite some time, it illustrates what's 'behind it all', this passion for a dialogue with the metal which drives me, and which – incidentally – is also what makes me happy. How lucky is that?
Gotta look for some of those still 'listening' moments in the next bit, I think.  I am so glad I found this. Brings me right back to square one. Best place to be, hands down.
---
And such is my passion for making
that the search for the right form to
emerge from the material before me
And such is my passion for making
that this search pains me in the
innermost center of my soul – the same place love hurts –
And such is my passion for making
that when I see a form which is perfect for
its moment in time and space
(some call this 'good design')
that such a perfect form brings the sun to my face.
I weep with joy over such good fortune.
And such is my passion for making
that I wither when I stop
that I dream it day and night
completely unshakable.
And such is my passion for making
that I drink its textures its sounds its weight its dirt
I drink them like nectar
like frozen Bombay Sapphire
never enough.
Such is my passion for making
that it hurts.
When I realized this
I became terrified.
Now I stand in awe
before the materials which are
pregnant with stories, laden with hidden forms.
I want to draw them out
I wish to help them emerge
I desire to see them.
I concentrate, still,
examining each step carefully
Listening intently.
Dorothée Rosen, 2006